The Reuben is the Gateway Deli Sandwich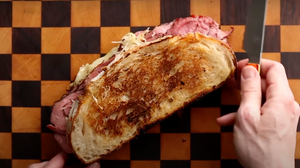 When I was a kid I never liked the deli.  I grew up in Atlanta where, yes, delis are a thing, for sure, but in the posh neighborhood I called home, the deli experience was pretty white bread, figuratively and literally.   We did have one clean, if antiseptic, charming deli near my grandmother's house in the Buckhead section of Atlanta.  If its country club name isn't a dead giveaway, Buckhead is a Ritzy part of town where soccer moms wear pearls, and the dads tuck their polos into their madras shorts.  It's genteel. So the deli we had around the corner with its walls and floors as white as Duke's mayonnaise mostly served the blandest of combinations.  Tuna on milk bread.  Sliced turkey on milk bread.  Sliced ham on milk bread.  If there was color you had to unwrap it from rolled up wax paper, and it had all the looks, if none of the crunch, of a pickle spear.  The ironic thing about this deli, packed wall to wall with wealthy Atlantans, was that it served food lacking in all richness.  Nevertheless when I sat there eating with my grandmother, disappointed, I felt like the problem was myself not my sandwich. Maybe I was just someone who didn't like delis.  It was only when I turned 14 that I learned my dislike of delis was not my fault at all.  
(6" Deli Knife, with Sunburst G-Fusion handle)
In 1995, ]when I was in 8th grade and convinced that I was going to be the next great gift to American theatre, my mom decided to take me on my first trip to New York.  My mother was brilliant at nurturing my interests, so she decided we'd have a proper, touristy New York experience.  We'd see all the shows! Go to all the museums! Walk fast everywhere! But most importantly, it turned out, we'd go to some real delis.  She took me to Katz's, Carnegie Deli, and 2nd avenue Deli.  Admittedly, I wasn't thrilled, given my history with the underwhelming polite white triangles I'd known in the past, but the trip was expensive, and I wasn't about to ask for a slice of pizza instead.  
Before it closed in 2016, the Carnegie Deli was the epicenter of the tourist deli experience in New York.  But unlike other institutions that collected out-of-towners, Carnegie Deli backed up their popularity with quality.  I suppose the first thing that struck me was how impolite it was.  People shoving their way up to the counter.  Order takers shouting at one another. The impatience of it all!  As we approached the counter I watched the tourists ahead of me fumble in paralysis in the face of deli worker impatience. I was determined not to give myself away as a private school kid from Atlanta whose mother drove a Jaguar that matched her pearls.  No.  I was going to know what I wanted and order it loudly and rudely.  I walked up to the counter, summoned my best Chazz Palmentieri from A Bronx Tale and said, "Yeah, I'll have a Reuben." "One Reuben!" the man barked, and I went on my way.  Success!  Only one problem.  I had no idea what I'd ordered.  

When the plate arrived, the first thing I'd noticed was was the size of the sandwich.  How on earth was I going to eat this mountain?  Then came the color: the speckled grains of rye in the bread, the butter scented bronze of its grilled surface, the deep champagne of the Russian dressing, the off-white, melty shine of the gooey Swiss cheese, and the impossibly bright amaranth of the pastrami itself, piled high as any midtown office building.  I braced myself, took a bite, and nearly fell over, drunk with meat.  I never wanted it to end, and with a sandwich this large, I could rest easy it would be a while before it did.  Surprisingly, I ate the whole thing.  I guess all that fast walking built up an appetite.  I stared at my plate, then at my mom, and I couldn't help but feel almost like I'd come home.  To be sure 7th Ave. between 54th and 55th is a strange place for anyone to breathe easy, yet there I was in the mid 90s in midtown in my mid-teens, and all the way home.  From Atlanta kid to deli kid in the course a sandwich.  

Reuben Sandwich
Serves 4
Ingredients:
• 8 slices of country rye bread
• 8 tbs of butter, softened
• 1 lb of pastrami
• Saurkraut
• Sliced Swiss cheese
• Russian Dressing (recipe to follow)
• 1/2 cup of mayonnaise
• 1/2 cup of chili sauce
• 1 tsp of smoked paprika
• 1 Tbs of horseradish
• 1 tsp of pimentos
• 1 tsp of Worcestershire sauce
• 1 tsp of minced chives
• 1/4 tsp of salt
Steps:
Make the Russian dressing:
1. Combine all ingredients in a blender.

2. Blend on high until fully combined.

3. Transfer to a container and store in fridge for at least an hour and up to a month.
Make the sandwich
1. Heat a large skillet over medium heat.

2. Spread your desired amount of Russian dressing on the inward facing sides of each slice of bread.

3. Layer each sandwich as follows:  Bottom slice, pastrami (be generous), sauerkraut, Swiss cheese, top slice.

4. Generously butter the outward facing slices of rye bread.

5. Grill the sandwiches on each side until the surface is a dark golden and the cheese has melted.

6. Slice in half.

7. Serve hot.
John Tufts is an award-winning actor and author.  In addition to being paid to travel the world to wear tights and fight with swords, he has also written a cookbook about the food of Shakespeare's England called
Fat Rascals: Dining at Shakespeare's Table.
  His book is available at
john-tufts.com/fatrascalsbook
.  His upcoming food history web series,
Eatso Facto,
will start airing in September.  You can follow him on Instagram at @johnnymtufts.  He lives in New York.