How to Use Your Chef Knife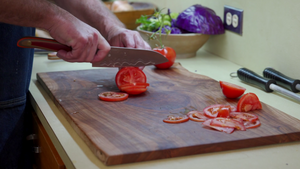 How to Use Your Chef Knife
As part of our Knife Tips series, we explore how to best use your Chef Knife. Looking for which chef knife or main cutting board knife is right for you? Refer to part one of our series, how to choose your chef knife.
Once you have selected your knife, using it properly will ensure maximum efficiency, safety, and best use of the tool. In this Knife Tips video, our founder Corey Milligan, and his son Buck, show you proper technique.
The Pinch Grip
As you'll see in the video, Corey & Buck hold their knives by pinching where the handle meets the blade. For many at home chefs, this will be a technique that you haven't considered before. "The vast majority of pros hold it that way. It gives you more control of the knife," according to Corey. We encourage you to give it a try at your next meal prep.
Our American made chef knives here at New West KnifeWorks have been designed to allow for this grip. "The front of our handles slope nicely so you can hold it well with this pinch grip," says Corey. You will find with practice that this will become quite comfortable, and holding your knife any other way will become unnatural to you. 
Fear not, if you give the pinch grip a try and it's not for you, our ergonomically shaped handles will feel great and perform beautifully with a handshake type grip as well.
The Control Hand
Anytime you are working with knives, safety is paramount. Hold and guide the food with your fingertips always curled under your knuckles. The side of the knife blade should rest against the knuckles of the guiding hand, helping keep the blade perpendicular to the cutting board. Use your control hand to guide the food along the cutting board as you slice. Always starting with your knuckles against the knife.
Whether you are slicing, dicing, chopping or going for julienne, these knife skill basics will apply. Proper grip, control, and safety are the foundation to any use of your kitchen knife.