How to Choose Your Chef Knife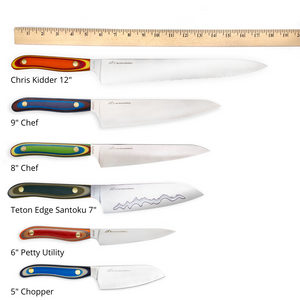 A quality chef knife that you love to use will transform your cooking from a chore into a joy. You will look forward to food prep as an opportunity to "play" with your favorite tool. With New West KnifeWorks, this is a long term investment, because our knives are made to last a lifetime. 
As knife-makers, of course we want everybody to have all of our knives. BUT, the reality is you just need one really good knife to be your go to Chef Knife, this knife will be the one you use for 90% of your tasks. We have a lot of options, different shapes and lengths, to become your best friend in the kitchen.

We have put together this buying guide to help you figure out which one is for you. 
Chris Kidder Special 12" Chef Knife
This knife was designed by NWKW's knife-maker in chief, Corey Milligan. Corey's brother-in-law, Chris Kidder is a professional, "uber-chef" in Southern California. The knife is almost 12" in length. But don't be scared by that-- the learning curve adjusting to a longer knife is actually very quick. Once you get the hang of the extra leverage, you'll never want to be without it. The "French-style" shape lends itself to a slicing motion. Once you get the hang of it, this knife will do all the work for you. 
The 9
Hunter Lewis, the editor in chief of Food & Wine Magazine, described this knife as his "Best Friend in the Kitchen." While The 9 is a longer knife, many customers have noted that it has the best balance of any knife they've ever held. The generous curve of the belly allows for both straight, smooth slicing or rocking motion. The blade is wider than the Kidder and ample enough for scooping ingredients from the cutting board.
Teton Edge Santoku
New West KnifeWorks take on the Japanese style blade is one of our signature knives, and not just because the Teton Mountain range is etched onto its blade. The etching helps separate food from the knife. Our version of the Santoku knife adds a "Western" sensibility to the classic shape. The curved belly of the blade allows for more of a rocking motion than a traditional Santoku, which is designed for more of a straight up and down chopping motion. The "Teton Edge" is East meets West- and it's the best of both worlds. 
"A modern twist on the classic Japanese Santoku knife, its high-performing alloyed steel is ready to take on the sturdiest of vegetables. A slick leather case and a bold, colorful handle add to the visual appeal." - San Francisco Chronicle 
The 8
All of our knives use CPM S35VN steel- The 8 is a blade shape that really accentuates the possibilities of this elite, best-in-class, American steel. While S35VN has high carbon and is extremely sharp, what makes it unique and special is that even with all that carbon, it is also extremely tough and resilient. This allows us to make an incredibly thin and lightweight blade that won't chip or break. We even taper the tip so the front portion of the blade "bites" into whatever you may be slicing. This is a lightweight alternative for folks who find a regular 8" knife unwieldy. OR, for folks who just prefer the agility of an ultra-light, thin knife.
Petty
At 6", this is definitely smaller than a full size chef knife, it's a hybrid "utility" knife. It performs well on the cutting board AND is light and agile enough in the hand to use as a large paring knife. If you had to have one knife with you on a deserted island to do everything-- this would be it. The Petty is our most famous knife. In addition to being featured in the New York Times, it was also chosen by two of the chefs from Bon Appetit's Test kitchen as their favorite knife. 
Chopper
At 5" the Chopper is definitely shorter than a traditional chef knife. But for people who find a large knife intimidating or prefer the compact size and shape, this special-purpose kitchen knife will perform all the tasks you need from a full-size chef knife. This is our famous "Salsa" knife-- it works great on all those veggies AND has a generously wide blade for scooping the ingredients into a pan or bowl.  
 What Other Knives Do I Need?
What other knives do you need after you have selected a great cutting board knife? See our What Knives Do I Need Page to learn more.