Breakfast in the Woods: Skillet French Toast with Caramelized Peaches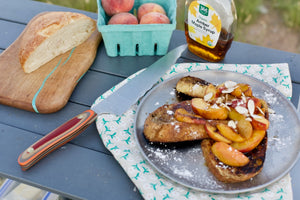 Fresh peaches hold a special place in my heart.
Words and images by LIlly Krass

It's not until the Palisade Peach tent pops up at the Jackson People's Market that it really feels like summer has begun. Before I head out for a camping trip, I like to stop by the market for a fresh loaf of sourdough and a bag full of the sweetest, ripest peaches, something that to me feels as integral to the trip as my tent and sleeping bag. 


(Thick cut slices of bread sizzle on a camp stove in cast iron.)
Lazy mornings around camp are what I live for in the summer, and I always like to pair a carefree morning in the woods with a tasty, shareable breakfast I can enjoy over a big pot of coffee; life is short, there's no reason we should bore ourselves with instant oatmeal packets. I often gravitate towards french toast in the summer, in part because it's the perfect vessel to enjoy ripe farmer's market fruits and berries, but also because it's a pretty simple camp meal that feels decadent and easily feeds a group; it's just as easy to whip up four slices as it is to fry up a whole loaf.  


(The Superbread knife slices a loaf)

Thick slices of sourdough bread are my favorite way to enjoy this Skillet French Toast, with a fresh loaf of Challah or brioche coming in at a close second. A baguette will also make adorable mini french toasts that are sure to please a crowd. While this french toast recipe will absolutely work with pre-sliced bread, I've found the thin slices that come with sandwich bread cook through a little too fast and don't give me that crispy on the outside, soft on the inside texture that I love so much about french toast. Plus, I'm always looking for any occasion to whip out the 9" Superbread knife, which slices cleanly through every loaf of bread I've come across without the cascading waterfall of crumbs I've so often created with traditional bread knives. 

While french toast isn't quite as delicate as pancakes, precision is easy to come by when flipping slices with the Turner Spatula. I've also found the 5" Chopper to be an ideal do-it-all camping knife, small and sleek enough to stash in the camping box, yet capable enough to slice and dice peaches with ease. 

(Campsite French Toast covered in peaches, almonds and powdered sugar.)

Camp cooking can feel intimidating at first, but I've found that almost anything is possible with a two-burner camp stove, cast iron skillet, and a spacious table for chopping and prepping. If you want to minimize camp prep work and dirty dishes, you can slice the bread and peaches at home, combine the egg and milk mixture in a sealed container, and stash it all in a cooler for a day or two.
Skillet French Toast with Caramelized Peaches
Serves 4-6

Ingredients:
• 1 1/2 cups coconut milk (or whole milk)
• 4 eggs
• 1 tsp. vanilla
• 1 tsp. cinnamon
• 1 whole loaf of sourdough bread, homemade or store bought
• Dash of salt
• 1 Tbsp. brown sugar
• 3 Tbsp. coconut oil or butter, for frying

Caramelized Peaches
• 6 fresh peaches
• 1/4 cup honey
• 2 Tbsp. butter
• 1/2 tsp. cinnamon
For serving
• Powdered sugar
• Toasted almonds
• Maple syrup

(The 5" Chopper, some uncut peaches, a loaf of bread, and the Superbread knife)
Directions:
In a shallow bowl, whisk eggs then stir in coconut milk, vanilla, cinnamon, and salt. 
Fire up your camp stove and heat a cast iron skillet to medium high with coconut oil or butter.
Slice bread into 3/4-inch slices. Soak each slice in the egg mixture, dipping it on both sides until the bread is totally saturated. 
Sprinkle both sides with brown sugar, and place onto the hot skillet, cooking on each side until brown (about three minutes per side). Repeat until you've used the whole loaf. 
Caramelized Peaches
Pit and slice the peaches into 1/2-inch slices. 
Heat a separate skillet to medium with butter.
Add peaches and drizzled honey over them, cooking until peaches are soft but not burnt.  
Top french toast with peaches along with nuts, powdered sugar, or maple syrup.