Trailside Charcuterie: The Eleventh Essential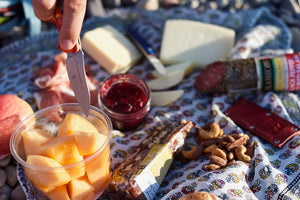 Written By Lily Krass
Never leave the trailhead without a pack full of cheese and cured meat.  
There are few things in life that can't be made better by an elaborate charcuterie spread.
Combine that with the fact that everything tastes approximately one million times better while you're hiking, and I think it's safe to say Trailside Charcuterie is pretty foolproof. 
I love hiking, but my one-track mind often needs a tangible reward at the end. Yes, an alpine lake is great, but how about something tasty to eat? Over the years I've gradually ditched packaged snacks on the trail in favor of more interesting treats that I'll actually look forward to on the hike in, swapping cement-like Clif Bars and artificial energy chews for hunks of parmesan, fresh baked bread, and cured meats (I can't take credit for this, the Europeans are onto something). 

(Charcuterie board featuring a Sunburst G-Fusion Glory Folder & Huckleberry Paring Knife, Photo credit Lily Krass)
This style of eating isn't the fastest or lightest, but I guarantee you won't notice an extra pound or two in the backpack when you're perched on a rock with a slice of prosciutto and hunk of manchego in hand. 
(Assortment of G-fusion Glory Folders)
For backcountry cheese boarding (yes it's a verb) I like to use the Saddleback Glory Folder alongside the 2" Mini Paring Knife, since both are small and compact enough to throw in a pack and give me easy slicing and peeling capabilities without needing a cutting board. Outside of slicing cheese for your mid-mountain picnic, the Glory Folder is a great tool to have on hand for any outdoor adventure; a pocket knife I never knew I needed until I found myself whipping it out to open packages, cut zip ties, make kindling, or spread cream cheese on a bagel. The 2" Mini Paring Knife is small but mighty, an adorable little knife that packs a surprisingly mean punch for such a compact design. The small blade is incredibly precise while peeling apples or hulling strawberries, and its versatile capabilities and svelte design make it a great knife to have on hand for backcountry picnics. 

(Mini Paring knife, Huckleberry G-Fusion handle.) 
A charcuterie spread is the ultimate opportunity for creativity—really, there's no right or wrong way to do it—and this recipe (which is more of a set of guidelines) features a few of my favorite cheese board essentials. But don't limit yourself; as long as it tastes good and makes you smile after a few hours on the trail, I think it's fair game. 
My Favorite Trailside Charcuterie
Serves 2-4 (depending on the length of your hike)
4 oz. prosciutto, pre-sliced
7 oz. stick salami
5 oz. sharp cheddar
5 oz. Manchego or other firm sheep cheese
1 cup sliced cantaloupe
1 cup mixed seasoned nuts
Package of marinated olives, sealed
Slice of date and walnut cake
1 apple
Small jar of jam
Baguette
Box of Crackers

(Slicing a baguette with a Glory Folder Pocket Knife, photo credit Lily Krass)

Tips for Backcountry Cheese Boarding
Presentation is everything! Okay, not everything, but pack something to serve your spread on so it's easy to share. I prefer a bandana or some sort of cloth to throw over a log, but if you feel like packing in a cutting board, more power to you. 

When in doubt, opt for sturdy snacks. Yes, a wheel of Brie is tasty, but hard cheeses and unsliced loaves of bread will survive much longer in a backpack. If you opt for a softer, spreadable cheese, look for one that comes in a small container that's easy to close

Add shelf-stable tid bits like pre-packaged olives, fancy almonds, or dried fruit that are fun and filling but you won't have to stress about keeping fresh. 

Even though you may end up with some extra trash on the hike back out, I like to keep most things in their original packaging (minus the cracker box) since cheeses and meats are already sealed up tightly and makes it easier to rewrap unfinished cheeses. 

Fresh fruit is a splurge, but well worth it. Sturdy fruit like apples are always a safe option, but if you're like me and can't resist prosciutto and cantaloupe, slice up a few wedges at home and toss them in a small tupperware.