The Secret to Solo Dining: Crosswords, Wine, and Chimichurri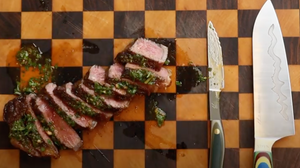 My 12th wedding anniversary is coming up in a couple of weeks, which got me thinking. Right before I got married I took a bachelor trip to St. Helena, California.  I went alone.  I know it sounds dull, but I'm not wealthy enough to do one of those 21st century bachelor outings of a #vanlife trip of kayaking, skydiving and grizzly wrestling.  I was also not particularly interested in the bachelor outing of my dad's generation which always felt like inspiration for an episode of Mad Men.  Sure there's a middle ground, but I'm pretty content doing some things alone.  I have no problem eating at the bar of a nice restaurant, drinking wine, and reading the paper.  If I'm feeling conversation, off-hours are great, and the bartender is often thrilled to chat.  When the opportunity came up for a solo outing, I leapt at the chance to drive down to Napa for a couple of days of food and wine.  
I ate everything I could and drank enough wine to make Caligula raise an eyebrow, even if my debauchery opt-out might leave him baffled and bored.  It was like the movie Sideways, but an early draft, before the writer realized he might need things like conflict and drama and other people.  In two days I ate at six places, not including snacks or pastries.  The highlight, though, was a place that would never be considered a standout.  It's a touristy spot on 29 just north of Yountville called Mustard's.  It's been there for ages and it typically draws a Tesla driving crowd for a well-dressed lunch.  They claim to cater to the occasional trucker, but the occasion must be rare. The only work boots I saw belonged to the woman wearing cowboy boots that had to have cost more than the engagement ring I'd spent months saving up for.  
The food is whatever-the-heck-that-means contemporary California cuisine. California is big. Its culture diverse.  It has the topographical variety of a wee country. How crab cakes and aioli could ever speak for a state first settled by over 500 unique indigenous groups I'll never know.  But what to call it is irrelevant because the food there was so good.  I did something I never do.  After the main course of strip steak and chimichurri was done, I ordered another one.
The good thing about eating at the bar during slow hours is that nobody thinks your weird when A: you read the newspaper while you eat, or B: you order two steaks back to back. They certainly won't question you when you have four glasses of wine.

At the time of this trip about a decade ago, the trend in California was high alcohol wines with pronounced oak—strong velvety flavors that needed something equally bold for eating.  There was no room for subtlety.  Subtle food and a California wine is a bit like putting Jim Gaffigan in a remake of Howard's End.  Both are brilliant, but together asks a lot.  That's where something like strip steak and chimichurri come in.  Chimichurri is a brightly acidic, herby sauce that is perfect for balancing the rich, fat-capped, strip steak.  If you've never made a chimichurri sauce, it's crazy easy—as easy as making a vinaigrette because that's basically what it is. Likely originating in Argentina when the Basque settled in the 18th century, chimichurri is integral to the gaucho, or Argentinian cowboy culture.  It sometimes has the impression of an improvised sauce.  Mix some red wine vinegar, paprika and olive oil with chopped parsley and oregano and you'll have a wallop of a sauce.
After I finished that double-header of food and quadruple-header of wine, I needed to walk for a bit.  I wasn't about to get back in my car.  I took a long stroll along 29 and called my soon-to-be-wife.  I told her we needed to make plans for a trip—that I'd found the perfect little spot for us to have lunch.  Quiet, off-the-beaten-path hidden gem? No no, a noisy, on-the-main-drag, tourist magnet with a wait list.  Not to worry though, we'd go at 2:30 pm and sit at the bar.  We'll eat like kings and drink like romans, but the best part? We can order seconds.

Steak with Chimichurri Sauce / Serves 4
Ingredients:
For The Steak:
1. 2 thick (about 1 3/4" - 2") strip steaks. You can also do four steaks if your hungry and/or rich.2. 1/2 stick of butter3. 4 cloves of garlic.4. Salt/Pepper
For the Chimichurry
1. 1 bunch of parsley, finely chopped2. 7 cloves of garlic, peeled and finely minced3. 2 bay leaves, very finely chopped4. 1 bunch of oregano leaves, finely minced.

 

Should yield about 2 Tbs.5. 2 tsp of paprika6. 1/2 cup of red wine vinegar7. 1 1/2 cups of olive oil8. 1 tsp of salt + fresh ground pepper

Steps:
1. At least 30 minutes, and up to 2 hours before cooking, take the steaks out of the fridge.
2. Season on both sides with salt and pepper, and let rest on a plate.
3. Make the chimichurri:

1. In a mixing bowl, whisk together all of the ingredients except the olive oil.
2. Slowly drizzle in the olive oil while you whisk.

 

Don't worry about it being a super smooth emulsion like a vinaigrette, but the more slowly you add the olive oil, the less likely it is to separate.
Transfer to a smaller bowl and set aside.
Cook the steaks:

1. Preheat a cast iron pan or other heavy pan over medium high heat.
2. Add a few tbs. of butter to the pan.
3. Add the steaks, and cook on the first side, undisturbed for about 4 minutes.

 

4. Check the first side for a good, dark crust, and cook a little further if needed.
5. Flip the steaks, add the remaining butter and four garlic cloves to the pan.
6. Cook on this second side for 4-6 minutes, basting the steaks frequently with the butter. Make sure that the garlic cloves are also cooking in the butter to flavor it.
7. Flip the steaks again, and continue basting until your desired doneness is reached.

 

I go for medium-rare, or about 134ºF with a thermometer.
8. Flip each steak up on it's edge with the fat cap making contact with the pan. Just cook that edge for about a minute, rendering some of the fat out of the cap.

 

9. Remove the steaks from the pan and let rest on a plate for about 4-5 minutes before serving.

 

Divide the 2 steaks into 4 portions and serve with the chimichurri.


John Tufts is an award-winning actor and author.

 

In addition to being paid to travel the world to wear tights and fight with swords, he has also written a book about the food of Shakespeare's England called

Fat Rascals: Dining at Shakespeare's Table.

 

His book is available at john-tufts.com/fatrascalsbook.

 

His food history web series, "

Eatso-Facto,"

currently airs on YouTube.

 

You can follow him on Instagram at @johnnymtufts.

 

He lives in New York.