The Most Instagram-Friendly Food on Earth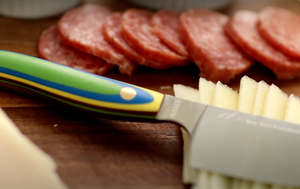 Here's what I like about charcuterie: you don't need a recipe to assemble it, you just need a picture.  You don't have to follow finicky steps.  There's no getting lost then scrambling to find your place.  There's no accidentally using a 1/2 a teaspoon instead of 1/8th of a teaspoon for this or that spice.  You simply look at the photograph and say to yourself, "Self, do that."  Those are my favorite kinds of recipes.  Actually, thinking about it now, I can't really think of any other recipe that falls into that category—things you can throw together just by looking at the picture.  Even a grilled cheese requires some basic mention of steps, whether it be how hot to heat the pan or when to flip the sandwich.  But with a charcuterie board, it's all there: the sliced meats, the pickles, the mustard, the olives, the cheese, the crackers.  And if you lay it out in an even slightly artful manner, which is to say, organized, your guests will ooh and ahh.  It's easier than boiling water, but impresses like a soufflé.

(Mini Chopper, with Ironwood handle)
I have to write a blog post about it, though, so there have to be more words.  I can't just start and end with "It's easy!"  So here's what I'll say, if you want to stop at easy, read no further; the instructions are above.  But if you want to get a wee bit schmancy, read on while I justify my word count.  

A good charcuterie board tells a little story.  Maybe it's an origin story, and you want to focus everything on the board as coming from particular place like Spain, for example.  In that case you can feature Ibérico ham (if your pockets are deep!), a dry cured chorizo, maybe some grilled butifarra, an aged Manchego cheese alongside a nutty Roncal from the north of Spain.  To drink you might want a Tempranillo.  Throw in a worn copy of The Sun Also Rises and you've got yourself a magazine cover. Or at least an Instagram post.  
Maybe you want your story to be a flavor journey. In that case focus on things that take you from mild to strong, or slightly sweet to pungent.  I spent a good part of my life in Oregon where one of the great American blue cheeses is made.  It's called Rogue River Blue, and it's an aged blue cheese whose rind has been wrapped in Syrah leaves soaked in brandy.  Almost anytime I put together a charcuterie/cheese board, I try to find some of this exquisitely nutty cheese. It's strong so I want to be sure to feature lighter cheeses to work up to this blue powerhouse.  In that case I'll add a Chèvre from northern California, and maybe a great, tangy cheddar from somewhere in the midwest.  For meats I almost always go for three things: a cured sausage like sopresatta, a potted meat like a country pâté or pork rillettes, and then something strong and salty like country ham from Virginia.  To finish add some olives, cornichons, some whole grain mustard, and you're golden.  
If you're having guests over, all you need to do is assemble everything.  For that, honestly, just look at a picture.  It's what I do.  Got ramekins?  Now's the time to give 'em a job. Just don't be too generous with portions.  A little goes a very long way when it comes to charcuterie.  These are generally strong, salty and fatty flavors.  If you're more restrained with your portioning, the power will speak for itself.  Then again, maybe your the type who can easily devour $30 of aged blue cheese in one go, in which case, surrender to the gluttony.  No matter you go about it, though, whether it be judiciously or voraciously, take a picture.  The next person assembling their first charcuterie board with thank you.
Charcuterie Board 
Serves 4
Ingredients:
Steps:
1. Place the cornichon, mustard, and honey into separate ramekins or small bowls.
2. Arrange the cheeses, meats, and crackers cleanly on a large cutting board.  
3. Place the ramekins or small bowls on or around the cutting board.
4. Give each item its own small knife or utensil.
5. Serve.
John Tufts is an award-winning actor and author.  In addition to being paid to travel the world to wear tights and fight with swords, he has also written a book about the food of Shakespeare's England called Fat Rascals: Dining at Shakespeare's Table.  His book is available at john-tufts.com/fatrascalsbook.  His upcoming food history web series, Eatso Facto, will start airing in September.  You can follow him on Instagram at @johnnymtufts.  He lives in New York.