Summer Spring Rolls with Miso Peanut Sauce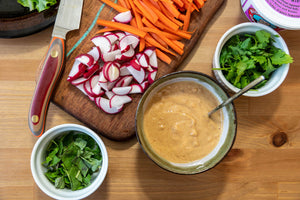 Recipe, words and images by Lily Krass
By the time August rolls around, my garden is brimming with so many leafy greens that I sometimes wonder how I'm going to keep up. I love salads, but there are only so many I can eat in a day. 

Spring rolls are my favorite solution to the abundance of greenery coming in the door each day, a fresh, crunchy treat that features a mixup of flavors that I never tire of. What better way to embrace the bounty of fresh summer greens than by rolling them up and dunking them in a sweet, savory peanut sauce? 
We get a CSA farm share each week from Cosmic Apple Gardens in Victor, Idaho, and their green spring mix (Cosmic Mix) are some of the most vibrant, tasty salad greens I've ever had. A huge bag of Cosmic Mix can be easily gone in an afternoon when I roll it all up with some crunchy radishes, sliced carrots, and fresh tofu. Greens, radishes, carrots, and tofu are my favorite combo for a spring roll, but there's really no right or wrong way to do it. As a general rule of thumb I like to aim to have something green, something crunchy, and a protein to roll up; other than that, the sky's the limit!
For delicately sliced carrots and radishes, I love to utilize the 6" Petty Knife. It's slim and sleek, with excellent precision when I want everything sliced super fine. For me, the Petty is an oft-overlooked kitchen essential; it's not the first one I'd pick out of a lineup, but it's become invaluable for recipes like this that demand quick, precise slices for a high volume of vegetables. 
These spring rolls make for an easy light lunch, a colorful appetizer, or a quick no-oven-required dinner for the hottest months of the year. Peanut sauce is a serious kitchen staple of ours, and I always recommend making a big batch to keep on hand at all times. Aside from being the perfect sauce to dunk a crunchy spring roll into, it's also great over noodles or rice, easily turning a quick pantry meal into a tasty Asian-inspired dish. Sometimes I like to thin the sauce with water or sesame oil and use it as a salad dressing. In short, it will be a serious fridge hero when you're not quite sure what to throw together. 


Ingredients
Spring Rolls
10 sheets rice paper
16 oz. of fresh spring mix or any salad greens
1 14 oz. package tofu, dried and sliced into ¼-inch pieces
1 large carrot, sliced into matchsticks
5 radishes, thinly sliced
Handful cilantro, chopped
Handful basil, chopped
Salt and pepper, to taste
Miso Peanut Sauce
¼ cup creamy peanut butter
¼ cup water 
1 Tbsp. rice vinegar
1 Tbsp. honey
1 tsp. soy sauce
1 Tbsp. miso paste (red or white both work)
¼ tsp. salt
¼ tsp. ground ginger
½ tsp. black pepper
Dash of Sambal Oelek (or any other chili sauce)
Directions
Spring rolls
Fill a large, shallow pan with warm water (about ½ inch deep).
Dip the rice paper in the water and hold the sheet in place for 3 seconds. 
Place the rice paper on your cutting board and add the greens, carrots, tofu, radishes, and cilantro.
Sprinkle a little salt and pepper on top.
Fold in either side of the rice paper tightly and roll each spring roll like a burrito. 
Peanut sauce
Add peanut butter, water, rice vinegar, honey, and miso paste to a blender.
Add the rest of the ingredients and blend again, adding water as needed to get to your desired consistency.