Take a Peek Inside These Top Chef's Kitchens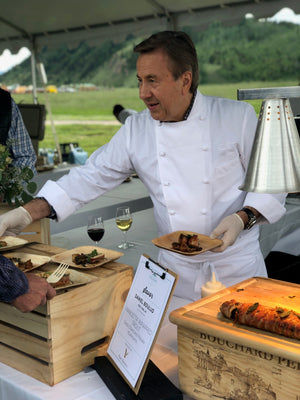 Jackson Hole, Wyoming may be a tiny mountain town, but it is full of foodies with with an appetite for world class cuisine. Twice a year, Jackson Hole Food & Wine puts on a multi day event that brings award winning chefs from all around the country to the Tetons. This year, New West Knifeworks caught up with some of the event's top chefs to find out which knives they use the most, whether cooking in Michelin-starred and James Beard awarded restaurants or in the comfort of their home kitchens for friends and family. 
Adam Perry Lang loves his NewWest Knifeworks Petty Knife for slicing BBQ short ribs.

The Chef: Adam Perry Lang is known as the BBQ guru, and his trendy Hollywood restaurant, APL Steakhouse, has a list of lunchtime regulars that includes celebrities like Jimmy Kimmel. You can order brisket, a chili dog, or even a $50 steak sandwich: no-frills food with just a few of the right bells and whistles.  
The Knives: The steak master relies on tools like a boning knife, 10" chef knife, and 12" slicer for slicing meat and more.
New West Suggests: The Fillet Knife for boning, the Petty knife  and 12" Chris Kidder Chef knife 
Brian Voltaggio serves up black pasta with uni and blue crab at the JH Food and Wine Festival.
The Chef: Brian Voltaggio is a TopChef finalist and TopChef Masters competitor who is also the co-owner and executive chef of 5 restaurants, including the Frederick, Maryland based VOLT. This east coast eatery is a fine dining institution where patrons come to rub elbows at the infamous Table 21, an exclusive 8-seat chef's table. 
The Knives: At home, Voltaggio relies on a 9" chef knife, santoku, and 6" chef.  When he's at work, he reaches for an oversized 12" chef.
New West Suggests: 9" Chef knife, Santoku, Petty knife, and 12" Chris Kidder Chef knife
Daniel Bouloud excitedly shows off his new Ironwood Chris Kidder Chef Knife.
The Chef: Daniel Bouloud is a classically trained French chef and restauranteur  who has restaurants all over the world- from Miami to Singapore- but he is best known for his Michelin starred eatery, Daniel, in New York City. Daniel is considered to be "one of the best ten restaurants in the world" by the International Herald Tribune. 
The Knives:  At home, Bouloud uses an 8" chef knife for absolutely everything! While at work, he switches it out for a 12" chef.
New West Suggests: 8" Chef knife and 12 inch Chris Kidder Chef knife
Fabrizio Salerni sears asparagus tips at Daniel in Miami, FL. (Photo credit: Zoltan LeClerc) 

The Chef: Fabrizio Salerni is the corporate chef for the Dinex Group, fellow JH Food and Wine  talent Daniel Boloud's company. As Bouloud's right hand man, Salerni travels constantly and needs knives that stand up to the everyday wear and tear that comes with life on the road.
The Knives: At work, Salerni uses a paring knife and 12" chef knife regularly, and swaps out the 12" for a 9" chef knife when cooking at home. 
New West Suggests: Paring knife, 12 inch Chris Kidder Chef knife, 9" Chef knife
Katie Button with her husband & business partner Félix Meana in Jackson Hole. (Photo Credit: JH Food & Wine)
The Chef: Katie Button is the owner and head chef of Cúrate Tapas Bar and Button & Co. Bagels in the hip Southern city of Asheville, North Carolina. Button loves tapas so much, she published a book on Spanish cooking called Curate: Authentic Spanish Food from an American Kitchen. Her food philosophy is "Ingredients First"- whether that ingredient is Asheville-grown Spanish pepper varietals or house-made sourdough starter.  
The Knives: Button relies on a paring knife and 8" chef knife while creating inventive tapas at Curate. At the bagel shop, she uses a serrated bread knife to get the perfectly sliced bagel. 
New West Suggests:  Paring knife, 8" Chef knife, 9" Superbread
Mike Lata shows off a white fish terrine garnished with white radishes. (Photo Credit: JH Food & Wine)
The Chef: The James Beard "Best Chef" award winner Mike Lata is the mastermind behind FIG and The Ordinary, both Charleston institutions. The South Carolina Southern-style eateries serve up oysters, local seafood, and classic  dishes your mom would love, but with a modern twist.
The Knives: At work, Lata uses a santoku to do it all. When he's at home cooking with his wife and son, he reaches for his 9"chef and paring knives. 
New West Suggests: Santoku, the 9" Chef knife and Paring knife. 
Michael Britten garnishes mini pork schnitzels with micro greens from Vertical Harvest.

The Chef: Michael Britton is a Jackson Hole, Wyoming local chef who creates spectacular dishes against an equally stunning mountain backdrop.  Piste Mountain Bistro lies at the top of Bridger Gondola and takes slopeside dining way beyond the standard pizza and hot coco- think blue marlin sashimi and compressed stone fruit topped with tarragon and cream.
The Knives: Britton has a one-and-done favorite: a 7" chef knife.  
New West Suggests: the Petty knife.
Good food requires good knives. Is your mouth watering yet?!
The Verdict: At home, top chefs love knives like the 8" Chef knife or  9" Chef knife, Paring knife, and 9" Superbread to round out a do-it-all set. If you're looking for one well rounded tool or are buying your first serious knife, the Petty knife, Santoku, or 8" Chef knife will  get the job done. If you're a serious chef, having a Fillet Knife detail work and de-boning meat and the 12 inch Chris Kidder Chef knife as your pro workhorse will help you swiftly turn out beautiful dishes for lots of dinner guests.