Now Open on Jackson Hole Town Square: New West Fine Art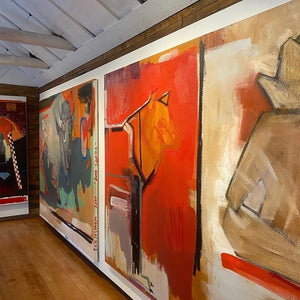 The New West Fine Art Gallery opened last weekend in Jackson with "The Last of the Old West"- a solo exhibition of the work of Connor Liljestrom.
Featured artist, Connor Liljestrom, almost never became an artist at all. The Jackson Hole, Wyoming native began as a history major at the University of Wyoming in Laramie and didn't switch his major to fine art until his third year of school. Art had always been Liljestrom's inclination and passion, but the prospect of building a career as an artist was married to an overwhelming fear of failure. 
"I was met with success early on in high school through scholarships and awards," Liljestrom explains, "but there was some sense of being a big fish in a pretty small pond. I reasoned that if I didn't try at the next level, I wouldn't fail at the next level. Ego-wise, I had a level of fear about that. That fear was a wonderful thing to confront and overcome, because you will most definitely fail if you don't try." 
As soon as he made the initial leap "to the big leagues" by switching his major to fine art, Liljestrom realized he wanted to fully commit to making a living as a studio artist. His professors encouraged him to figure out what exactly he wanted to add to the fine art conversation. Liljestrom explains, "I thought about what it meant to be raised in Jackson, Wyoming, and the many formative experiences I've had, and how I could express that through things I find beautiful, moving, and relevant."
Connor Liljestrom in studio.
Liljestrom's current exhibition, "The Last of the Old West," reflects this narrative: it opens a dialogue between the lore of the West and the Hollywood portrayal of that mythology, combined with Liljestrom's own experience growing up in Jackson, Wyoming– "a space that sees both… the authentic and the not so much."
While Liljestom's subject matter currently centers around Western themes, he is always committed to honesty in his art, whatever the subject matter. "My job as an artist," Liljestrom explains, "isn't just to paint. It is to think about the dialogue I'm having through my painting."
Take a "virtual tour" with Connor as your guide as he describes several pieces now on display at the New West Fine Art Gallery. The gallery opened last weekend, so if you're near Jackson's town square stop by and experience these beautiful works for yourself.
Richter the Kid
"Richter the Kid was a piece that happened at the very end of the year (2019) for me. I was still pretty new to a studio space and just getting the feel for creating and working in that space. This work is the first one that felt like a big success in that realm. Hitting my stride in a new space and continuing to work with certain colors that have been really interesting to me is very satisfying.  These two figures framed by archways are in some way very obvious icons of the American west; the armed cowboy with a six-shooter and a horse. That certainly exists and there is a bit of a commentary to that end. But then there are layers beyond that imagery that I hope a viewer injecting more time into this piece gets to be rewarded with and finds -  including this reference, which is also called out in the title of the piece - to Gerhard Richter. With the stylized portrait in the face, I hope that in this piece one can realize everything from a very quickly digestible icon of the west -  horse and rider, to significant art historical references. Both done in the sepia tone that pays homage to photographs of the era that these come from as well as Gerhard Richter as previously mentioned. Then there are other current moments happening in contemporary art with color and shape that are lovely, and I hope to present all of those simultaneously in this piece."
 - Connor Liljestrom, artist
Two Cattlemen
"Two Cattlemen is a reference to the livestock versus native predator issue. This is an ongoing conversation in the West between ranchers and environmentalists and the desire by both sides to find an equitable balance. It provides a platform to consider the impacts humans have on the native ecosystems and different viewpoints in addressing those issues. We are inhabiting once wild spaces and are needing to consider issues from many facets."
- Connor Liljestrom, artist
Sleeping Indian I
"Sleeping Indian is named as such because it's the first in a series I would like to do in order to continually revisit the form of Sleeping Indian, the nickname for Sheep Mountain located in Jackson Hole. This is an iconic mountain silhouette. It's the  type of main form that derives its name from a profile view of an Indian sleeping in a headdress that feathers out. In this piece I am both speaking to the geography of my home in Jackson as well as the western iconography that has to do with stylized Native American stories and folklore. Additionally I want to address some of the things that have been inappropriately adopted and used in Hollywood and otherwise commodified such as the headdress and the spaghetti western style of movie, where those kinds of Native dress have been inappropriately shown. This is a cause for concern, but in this painting I'm trying to speak to both the commodification of culture that isn't ours, and offer the suggestion that this isn't a subject that can't be approached, but rather it can be approached with a little more thought and reverence."
- Connor Liljestrom, artist