Maker Profile: Erin Hemmings - The man behind the rock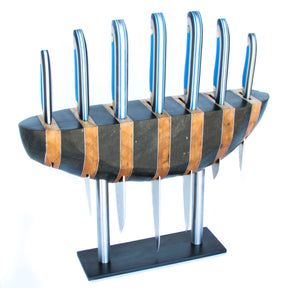 Meet Erin Hemmings, Director of Production and Chief Engineer. In 2004 Erin set the Guinnes World Record for the longest frisbee toss - 1,331 feet. In his life time he has designed and built everything from rockets to boats to gigantic thermometers. Today he oversees the creative production and design of all of New West KnifeWorks resin magnets, rock blocks and more.
In 2014 Erin answered an ad in the paper to be a knife sharpener and so began his career with New West KnifeWorks. Corey Milligan, the company founder and Erin Hemmings worked well together. Erin was encouraged to try new things. He found inspiration in the local raw materials like river rock and juniper, eventually developing the first edition of our world famous Rock Block.


It is clear that Erin realizes his art through engineering design with an aim at functionality. He describes his process of designing sculptural knife blocks as something he works through entirely in his mind. He calls it "mental tinkering" by the time he is ready to take a block to production he has worked through all the possible challenges, he knows it is going to be both beautiful and functional. 
Erin thrives as the NWKW Engineering R&D guru. Often the art we create in our factory requires special equipment, tools, or a machine that doesn't exist yet - that's where Erin shines the brightest. He has created more than 100 unique tools and more than 10 machines.

(An early work from Erin, before knives were displayed on the outside of the block and before makers started using resin.)
While Erin is no longer making rock blocks, he oversees the 6 individuals who will produce more than 150 unique rock blocks this year. Each of these artists and craftspeople bring something new to the table. Erin admits it was not his idea to first display the knives on the outside of the block - a design element that is now all but standard. He is delighted to see our factory artists get inspired by the process and the materials and try new things. The rock block is a product of innovation, collaboration and the personal creative freedom of a lot of people who want to make really beautiful things that will protect and display the best kitchen knives in the world. 
(An excellent example of a recent rock block design from maker Sarah Gage, the Perrine-Coulee Falls 7pc Chef Block.)