Limited Release: 9" Gyuto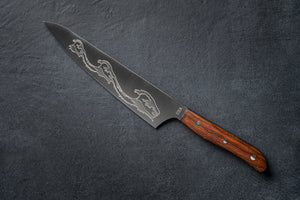 Fusion: Japanese Influence & American Craftsmanship
Our Limited Release Gyuto Chef Knife is a tribute to the rich heritage of Japanese knife-making. We bring 25 years of knife design and manufacturing expertise to this project. The gyuto blade shape embodies both Japanese tradition and American modernity.
In the early 2000s, New West KnifeWorks collaborated with Japanese knifemakers to create a line of knives, paving the way for today's 100% USA-made knives. This experience greatly influenced our knife design philosophy. After a recent trip to Japan, founder Corey Milligan drew new inspiration giving birth to the Limited Edition Gyuto. A tribute to the Japanese knife-making tradition, while incorporating the highest-quality American materials and techniques.

Gyuto, meaning "beef knife" in Japanese, is a versatile chef's knife with some unique characteristics. The extremely narrow single bevel edge enables this knife to make paper-thin slices and handle various chef knife tasks.
The Gyuto features a single bevel grind, known for its exceptional sharpness and precision. This design allows for straight and clean cuts, creating thinner slices with ease. The deep etch on the flat side of the blade, inspired by the iconic artwork "The Great Wave of Kanagawa," enhances the knife's functionality, allowing food to release easily.




"The Great Wave of Kanagawa" by Katsushika Hokusai is an iconic piece of Japanese art that transcends time. We count ourselves among artists around the world who have been inspired by the wood block print. We celebrate the cross-pollination of ideas and the profound influence of Japanese cutlery on Western art and culture. The waves symbolize the continuous flow of innovation and adaptation, reflecting New West KnifeWorks' commitment to pushing the boundaries of knife-making.


At New West, the pursuit of perfection is ingrained in our ethos. The Limited Release Gyuto Chef Knife is a testament to our unwavering dedication to creating the finest knives in the world. Each knife is meticulously crafted, ensuring the utmost precision, durability, and cutting performance.
New West KnifeWorks only produced 59 of these special blades.
Click here to claim yours.