Time to Get Cozy: Spiced Ginger Maple Hot Toddy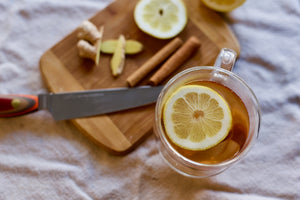 Words and Images by Lily Krass

It wouldn't be right to enjoy the first snow of the season without a steaming mug of hot toddy.  

In the winter, I always crave something warm and cozy over a cold beer or cocktail, and I've enjoyed sprucing up the classic hot toddy with a few warm and spicy flavors to give it that extra kick. This Spiced Ginger Maple Hot Toddy was born out of my love for warm winter spices, and an excuse for me to always have a hot drink on hand while I'm freezing my butt off all season long. 


The 6" Petty Utility Knife is my favorite tool for throwing together a homemade cocktail; a jack of all trades, it's the perfect size for peeling and slicing ginger root and lemons for this recipe. The Petty is quite a bit more manageable than the 8" and 9" Chef Knives (which I absolutely love, but feel like overkill for a quick chop or slice), an ideal tool for quick, precise tasks on a small cutting board. 
One of my favorite things to do on frigid winter days is make a triple size serving of this spiced ginger hot toddy, pack it into a large thermos, and break it out to share with friends while skiing; there's nothing quite like a warm spicy sip of hot toddy while watching the snow fall. 


That being said, there's no right or wrong way to enjoy a hot toddy, so if you'd rather make up a batch for a cozy movie night inside, go for it. If you don't have fresh ginger, you can easily swap out a ginger tea bag, although I think fresh ginger gives this drink a far better kick. 



Spiced Ginger Maple Hot Toddy
Makes 1 drink
Ingredients:
Directions:
Add ginger and cinnamon stick to a mug or hot toddy glass. 

Pour in boiling water and let steep for 5 minutes. 

Add in bourbon and stir in maple syrup. 

Stir in lemon juice and lemon slices. 

Enjoy!