Gaby's Ratatouille & Custom Knife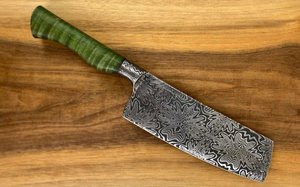 Celebrity Chef Gaby Melian's motto is "Keep Cooking. Be Happy!" Gaby has long loved New West KnifeWorks Chef Knives , she owns one of each. So when we offered to make a custom Damascus Knife just for her, she said YES. Check out this video to see the new knife in action and to learn how to make Gaby's Ratatouille. The recipe is below.

• 1 large eggplant, medium diced
• 4 tablespoons olive oil, divided plus more to finish
• Kosher Salt, amount needed.
• 1 large onion, medium diced 
• 3 garlic cloves, peeled and smashed
• 1 small bunch of basil, divided
• Red Pepper Flakes, to taste
• Ground Black Pepper, to taste
• 1 Holland yellow pepper, medium diced (sub: any color pepper)
• 2 small zucchini, medium diced (sub: any summer squash)
• 2 small Roma Tomatoes, medium diced (sub: any tomato you like, or strained canned tomatoes)

1. In a bowl tossed the medium diced eggplant with plenty of kosher salt. Set the cubes in a colander to drain over a bowl or in the sink for at least 20 minutes to release the extra water and bitterness.

2. After 20 minutes, rinse the eggplant to remove the salt and pat it dry with a clean towel, before you cook it.
3. Heat 2 tablespoons of olive oil in a large saute pan or shallow pot over medium heat, add the eggplant, stir frequently, any leftover water inside the eggplant will evaporate, but ideally it should be pretty dry. The eggplant will absorb the oil, and stick to the pan, keep stirring until they are golden brown. Lower the heat, remove the eggplant and set aside.
4. Turn the heat back on, add the remaining 2 tablespoons of olive oil to your pot over medium heat and stir in the onion, cook for about 5 minutes or until soft and translucent.
5. Add the garlic and a bunch of basil.
6. Season with salt and pepper and a pinch of red pepper flakes. If you like things spicy, you can add more, but remember you can't take it out, so be careful!

7. After you cook the onion, garlic, and basil for a few minutes, stir in the peppers, cook for a couple of minutes; stir in the zucchinis and cook for a few more minutes. This is a good time to season with salt.
8. Add the tomatoes and cook for 10 minutes. I like to cover my pot here to help the zucchinis soften.
9. Add the eggplant, stir all the ingredients, and let it cook for another 10 minutes or until the vegetables reach your preferred doneness, I like my vegetables to remain colorful and  a bit crunchy!
10. Now is a good time to remove the wilted bunch of basil, and season with more salt and pepper. Easy with the salt, always taste the eggplant first, remember it was salted for 20 minutes.
11. Stir some fresh torn leaves of basil and a good dash of olive oil and you are ready to eat.
You can serve Ratatouille warm or cold. I love to toss the leftovers with some pasta or rice; and I had made tacos with it before; the sky's the limit, never forget!
I hope you enjoy my version of Ratatouille!
At any point during the cooking if the bottom of your pot is really dry, you can add a tablespoon of olive oil.
I use a large shallow dutch oven, you can use anything that has a lid and room to hold all the ingredients together.