Bird & Trout in the Vineyard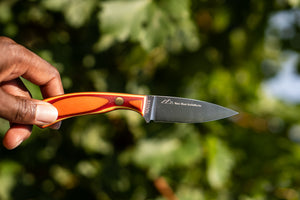 Words and images by Alisha Sommer, Bay Area Freelance Writer & Photographer.

I come from a family that did not hunt, fish, or camp. Both of my parents worked demanding full-time jobs which meant that our weekends were mostly for them to rest and catch up on chores around the house. To be fair, they also did not come from families that did outdoorsy things – though my grandfather did once tell me a story about picking oranges in Florida. I digress. The point is that I did not grow up with a real relationship with the outdoors; it is something I started to cultivate once I became an adult. And when we decided to move to California, I decided that I wanted to be more like a Californian.

To me, being a Californian means to be someone who can tell you the best places to see the stars, the best parks to go to where the trails are not as crowded, and the secret places in the woods where you can forage for mushrooms and edible plants – and being that we are in wine country, you probably also drink wine. I came to California determined to be one of those kinds of Californians. 
Things have not turned out quite as I hoped. It turns out that getting pre-teens out of the house and away from video games is harder than it seems. But the most important thing I have learned in my short time of being in California is that the right gear is essential. If you are not properly prepared, it drastically affects your experience. Admittedly, I have yet to go camping, but I am doing something very Californian. This harvest, I managed to join a winery as a cellar intern and the Bird & Trout knife is my tool of choice. 

As with most of the knives from New West Knife Works, it comes with a leather sheath, but this one has a belt loop on it so that you can attach it to you securely. Yet, because of its size, it also fits comfortably in a pocket or in a small pack. As a woman with small hands, the size of the handle is perfect. I can grip it comfortably and use it with ease which makes me feel more secure when attacking projects around the winery and the vineyard. You really want a good grip because it is so sharp.
Last week we received a little over a hundred wine barrels. Each barrel is wrapped with several layers of plastic wrap and the ends are capped with cardboard and thick rubber bands. The knife cuts cleanly and quickly through the plastic and rubber, cutting down the time it takes to unwrap each barrel – and when you're doing one hundred of them, every second counts.

When I go out into the vineyard to gather grape samples for testing. Though traditional grape knives have a curved edge, I've found that the Bird & Trout really works well. Tender budwood gives in effortlessly and gathering a few clusters takes no time. 
So, okay. I am not my definition of a Californian yet, but with the Bird & Trout, I think I am well on my way.