Sharpness Guaranteed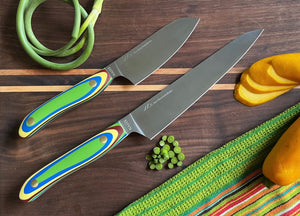 Sharp for Life: The Free New West KnifeWorks Sharpening Program
Story By, Lily Krass

Prepping a meal with a freshly sharpened knife is up there with one of life's greatest pleasures. It's easier, safer, and ultimately makes the end product significantly better. There's nothing worse than trying to hack at a tomato with a dull butter knife. 
I've used quite a few knives, but the sharpness and precision of my New West knives definitely rises high above the rest. Still, no matter how sharp these tools are, even the highest quality knives need sharpening. 


I was thrilled to discover that New West KnifeWorks offers free lifetime sharpening for all of their products, a quick and convenient service that I usually don't realize how badly I need until after I pick them up and start chopping again. I live in downtown Jackson, so it was super easy to pop into the store with my knives, drop them off, and pick them up a few days later after a good tune up.

There's no golden rule for how often you should get it done, but for knives that I use multiple times a week (and sometimes multiple times a day), I try to drop mine off every few months. Serrated knives stay sharper longer since the teeth do most of the work, so those don't need quite as much maintenance. 

If you live in or near Jackson, Wyoming, Victor, Idaho, Park City, Utah, Napa, California, or (coming soon) Denver, Colorado you can simply drop your knives off in store, and pick them up a few days later, or have them mailed back. If you don't live nearby, just follow the directions on the website to mail them in (NWKW covers the return shipping). The leather sheath that each knife comes in makes it easy to transport them safely, so you don't have to try to worry about trying to pack them up in a safe way.  

All New West Knives and Tomahawk Heads qualify for free lifetime sharpening, and for a fee, you can also drop off non-New West Knives for a sharpening and tune up. Read more about the New West KnifeWorks lifetime sharpening service here. 

One of my favorite things to do with a freshly sharpened knife is to chop tough hardy vegetables, which is perfect as fall rolls around and every kitchen project ends up requiring a fair amount of elbow grease. 

A few of my favorites are tackling a gourd for this Roasted Butternut Squash Soup or emptying out the fridge with veggies for this Local Teton Chili. They both require a high volume of slicing and dicing, and always leave me marveling at the impeccable precision that comes only with a freshly tuned up knife. Sharper is always better!


Lily Krass is a freelance storyteller and recipe developer based in Jackson, Wyoming. In addition to writing for ski and outdoor publications like SKI, Powder, and Outside Magazine, she also co-authored a cookbook: Beyond Skid: A Cookbook For Ski Bums, a collection of recipes inspired by life in a mountain town.