Embracing the Season's Bounty: Local Teton Chili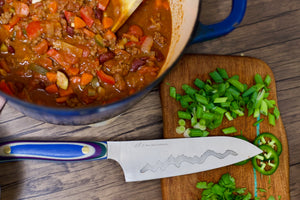 Recipe and story by Lily Krass

I know fall has really set in when I spend a whole Sunday cooking up a big pot of chili. And I'm definitely not complaining. 

This recipe was inspired by my mom's famous 10-Mile Chili, which she makes entirely from ingredients grown within 10 miles of our house in the Pacific Northwest. While that's a little more challenging here in the Tetons, we do have some amazing resources for fresh and locally sourced food thanks to our summer CSA from Cosmic Apple Gardens, and the dozens of other local farm goods available through the Slow Food Farm Stand. It's a short growing season, but the fresh tomatoes and carrots we get from Cosmic Apple are some of the sweetest and juiciest I've ever had. 


When the summer ends, I try to stock up as much as possible on all my favorite veggies, and it usually culminates in a wonderful chili, made in excess to freeze throughout the winter. Before the farm share season ends, I always stock my fridge with a few pounds of Cosmic Apple's local, grass-fed ground beef, which thaws in a pinch for quick and hearty dinners throughout the winter. 
I reach for the 7" Teton Edge Santoku when I've got a big countertop of produce staring up at me, an ideal knife for tackling everything from garlic mincing to dicing large carrots and then chopping up cilantro and green onions at the end. I've said it a few times about the Santoku, but in my opinion, if you have to choose one knife for the rest of your meals, go with this one. Plus, the Teton silhouette feels fitting while preparing this hearty chili made almost entirely with locally-sourced ingredients.
I think this chili really shines when it's packed with local vegetables and meat, but there's nothing wrong with leaning on canned goods in a pinch. 


Local Teton Chili
Serves 4
Ingredients:
1 lb.

Cosmic Apple Gardens

ground beef

1 Tbsp olive oil

2 cloves garlic, minced

1 small white onion, finely chopped

1/2 serrano pepper, finely chopped

1 medium zucchini, finely chopped

1 bell pepper, finely chopped

1 large carrot, finely chopped

1 tsp. cumin

1 tsp. cayenne pepper

1 tsp. salt, plus more to taste

1 tsp. pepper

2lbs of tomatoes, or 2 (14 oz.) cans of diced tomatoes

2 Tbsp. tomato paste

1 cup chicken or vegetable broth

2 cups cooked red beans, or 1 (14 oz.) can of red or kidney beans
For serving:
Directions:
Heat a large pot to medium with olive oil.

Add garlic, onion, serrano, and meat to the pot. 

Once the meat has begun to brown, add zucchini, bell pepper, and carrot.

Add cumin, cayenne, salt, and pepper and give the pot a good stir. 

Add canned tomatoes, tomato paste, beans, corn, and broth. Depending on the consistency you prefer, add a little water or more broth. 

Cover the pot and turn to a lower setting. Let your chili simmer for at least 30 minutes, the longer the better.

Serve with chopped cilantro, green onion, cotija cheese, and tortilla chips