Fall is Here: Roasted Butternut Squash Soup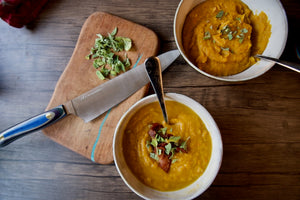 Words and Images by Lily Krass
It's that time of year where just about everything on my menu incorporates some sort of winter squash. Some might call me an autumn-crazed cliche, but I don't care. Acorn, kabocha, sugar dumping, butternut, I love them all, and I savor the few months of the year I can shamelessly process and cook up as many gourds as I can get my hands on. 
A steaming bowl of this Roasted Butternut Squash Soup is my favorite way to warm up after a chilly fall hike, with cozy spices that make my whole kitchen smell amazing. While butternut squash seems to get all the glory when it comes to soup, you can swap out any winter squash for similar results. I think acorn squash delivers the second best soup flavor, with sugar pumpkin and sweet potato creating a sweeter soup.


Cutting through a tough winter squash usually takes a fair amount of force, but the ultra-sharp and powerful 9" Chef Knife slices through easily, taking some of the grunt work out of the pre-roasting process. Aside from giving the soup a little more depth of flavor, roasting the veggies in the oven minimizes the time spent mindlessly stirring in front of the stove. Once you pop the squash and veggies out of the oven, everything comes together in about 15 minutes. You can even pre-roast the veggies if you want to divide and conquer tasks on a busy fall day. 
I'm of the opinion that a butternut squash soup tastes best when it's super thick, but feel free to stir in extra water or coconut milk if you prefer it on the thinner side. 
If you make too much, that's great news. This soup seems to only get better as leftovers for the next few days, and it freezes well for dinner in a pinch. 


Serves 4
Ingredients:
1 medium butternut squash, peeled and cut into large chunks 

2 large carrots, chopped

1 green apple, diced

2 Tbsp. olive oil, separated

1/2 medium yellow onion, chopped

2 cloves of garlic, minced

1 cup vegetable broth

1 14.5 oz. can full fat coconut milk

1 Tbsp. fresh or dried rosemary

1 tsp. ginger

1 tsp. salt

1/2 tsp. pepper

1 tsp. cayenne pepper
For serving:

Directions:
1. Preheat your oven to 400°F.

2. Toss squash, carrots and apple with 1 Tbsp. olive oil and sprinkle with salt. 

3. Bake for 20-25 minutes, until they start to brown around the edges. 

4. Heat a large pot to medium with the rest of the olive oil. 

5. Add onion and garlic and sauté until fragrant, about 4-5 minutes. Add squash, carrots, apple, vegetable broth and spices and bring to a boil.

6. Reduce to a simmer and add coconut milk. 

7. Let soup simmer, stirring occasionally for 10 minutes, adding salt and cayenne to taste.

8. Use an immersion blender to cream up the soup. Add water, 1/4 cup at a time, until it gets to desired consistency.

9. Heat skillet and add bacon (if using), frying until crispy. Chop into small pieces along with sage.

10. Serve soup topped with crispy bacon and sage and a hunk of your favorite bread.