New West Wedding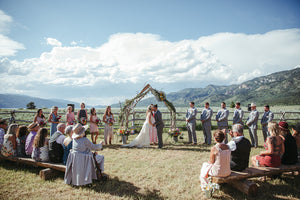 We've all been to a wedding or two when, by the time the food comes out post ceremony, you're practically diving at the tiny hors d'oeuvres platters in an attempt to avoid a massive champagne headache. The wedding of Anthony Campolattaro and Annie Kampfshulte was not that sort of party. Never mind what the bride was wearing: the antipasto spread was the stuff of (Jersey Italian) legend.  
Charcuterie heaven in Jackson Hole.
New West KnifeWorks COO Anthony Campolattaro explains, "Last year Annie and I went to my cousin, Lia Campolattaro's, wedding to Lou Gencarelli. They had a 12 foot table of the finest Italian salamis and cheeses.  Annie and I agreed that we needed something similar at our wedding."  
One of Campolattaro's groomsmen, New West KnifeWorks founder Corey Milligan, stepped up to the plate and created the ultimate charcuterie board to please a diverse guest list of Jersey Italians, Midwesterners, and Jackson Hole residents. His cover photo-worthy antipasto board included a summer herbed cheese log, five hour eggs, white anchovies, and pickled veggies, but the star was undoubtedly Milligan's homemade cured meats.
Slices of spicy, deep red chorizo with milder finocchiona, all house-cured by Corey Milligan.
 Milligan went all out with three varieties of salami– finocchiona, Spanish-style chorizo, chive and lemon summer salami, plus Ski closet prosciutto and capicola. Campolattaro explains, "Corey channeled his inner Barefoot Contessa and crushed it. It was his masterpiece. My wife and I are forever grateful."
In case you're curious about the origins of Milligan's ski closet prosciutto, it is, in fact, made in his ski closet.  While this may sound slightly suspect, it's actually pretty delicious– the dry, cool closet with consistent cellar temperature is the perfect place to hang curing meats– and Milligan often uses game meat like elk or deer, or other local cuts. 
From the butchering of the pig to the final slicing and serving of the charcuterie, Corey's New West Knives were integral tools at every step. It was a true homage to the inventive culinary lifestyle and kinship that New West KnifeWorks aims to inspire.
Party goers check out the spread, adorned with an elk rack of course: a must for any Western wedding. Rugby goal posts stand tall in the distance.

Aside from being coworkers, Milligan and Campolattaro have a long history of  friendship that goes all the way back to the rugby "field of dreams" where the wedding took place. They (the groom and the groomsman, not the groom and the bride) met playing rugby for the Jackson Hole Moose RFC. When Campolattaro was short on housing, a classic Jackson Hole dilemma, Milligan agreed to let him live in a cabin behind his house in exchange for babysitting his kids and working at the knife store a few days a week.
Campolattaro (second from left) and Milligan (far right) prepare for wedding shenanigans. 

The happy couple on the rugby field. And, yes, the bride's dress was beautiful!
Word on the street is that Corey's brother Mike Milligan even helped Campolattaro draft his wedding vows. While the validity of this is up for debate, one thing is for certain: the New West antipasto spread was absolutely epic. 
 New West KnifeWorks Tips for Preparing the Perfect Antipasto Spread 
Use the correct serving platter. It should be large enough, and visually appealing... we eat with the eyes first, after all. Cutting boards will often work well.
Choose cheeses that complement whatever other items you will serve on the platter, rather than buying the cheese first. Choose a variety of hard and soft cheeses.
Pre-slice or cut the meat into bite sized pieces and keep slices thin. The 8" Chef or 9" Chef are ideal for getting the super-thin slices that make cured meats taste best.
Have all of the right knives for the job! We recommend the Mini Chopper or the Petty Knife to serve the perfect charcuterie board.
Seasonal veggies and fruit add color and freshness to the platter, so make sure to mix it up with colored peppers, pickled veggies, and preserves.

You'll be creating epic spreads like this one in no time.
If you're planning a wedding of of your own, did you know that now you can create a New West KnifeWorks registry?
Top 3 Wedding Registry Must-have's
Dial in your kitchen set up.
7-piece chef knife set and block: Everything you'll need if you love to cook, and a beautiful block to display your new knives.
3-piece "full house" set: A paring knife, Santoku, and deli knife round out a set that gets the job done.  
Ironwood 6-piece steak knife set: Perfect for entertaining and enjoying meals with family and friends.
Soft cheese, fresh bread, and lots of veggies to compliment the home-cured meats.

Marinated white anchovies with fresh lemon and chive blossoms.
5-hour eggs with pickled onions.