Knife Skills 101 with the Chopped Jr. Grand Champion Buck Milligan
September 09, 2020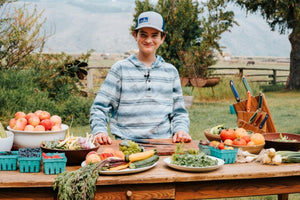 Brush up on Knife Basics with Buck Milligan
As part of the Slow Food in the Tetons Six Weeks of Slow Food free online class series, we are proud to present this Knife Skills video.
The mission of Slow Food in the Tetons is one that New West KnifeWorks is proud to support. Local food is healthy, responsible, and most importantly, extremely delicious. Learn more about Slow Food in the Tetons on their website, and support local food in your area.
This video class will show you various techniques for cutting a variety of vegetables. Preparations for salads, grilling, salsas and more. Also included is a delicious Brown Butter Tomato recipe! Check out the video to learn Knife Skills 101.