Interview with Chef Jim Berman from World Central Kitchen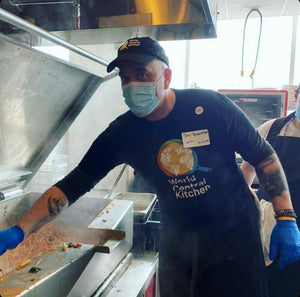 A Labor of Love: Chef Jim from World Central Kitchen
At New West KnifeWorks, we make our tools to withstand the demands of professional use. So, nothing pleases us more than positive reviews from pros who spend their lives on the line.  When putting in long hours, a good knife not only makes food prep easier, it helps prevent blisters, tendinitis and cutting yourself.

Chef Jim Berman has used our knives for many years in a variety of professional settings. The lives of "culinary artists" like Jim are often a labor of love. When we think of professional chefs, we often imagine "celebrity chefs" who do a little cooking AND A LOT OF TALKING to a television audience. But it's the journeymen chefs working long hours in professional kitchens who actually feed us when we go to our favorite restaurant, or in these times, order takeout.

Right now, food security is a real issue in our country. Chef Jim is answering the call to serve the needs of the community by working with World Central Kitchen. When we heard about their mission, we wanted to help- so, we reached out to Jim to set up an auction to raise money for World Central Kitchen.
We also sent Jim a Teton Edge Santoku to test. Check out his video review of how it worked for him.

The following is an interview with Chef Jim about his culinary journey and working with World Central Kitchen.
NWKW: 
Can you tell us a little about your culinary journey prior to WCK?
Chef Jim:
"Experience is what you get when you don't get what you want," rather daintily sums up some recent experiences. Over the last few years I have been wandering in the vast, untamed kitchen wilds. A year here, a few months there, I have been looking for the right fit; a place to make a difference where I also could be part of a real team. I am currently the exec chef at the Chase Center in Wilmington. It is a large operation with multiple venues and catered events into the thousands. We also support some outside spots, a riverboat, a nature center, and a market. It is a good home and hope to be back there soon. 
NWKW:
How did you get involved with World Central Kitchen?
Chef Jim:
Back in late 2018, early 2019 when the federal government went on furlough, there was an opportunity to volunteer at World Central Kitchen's relief operation on Pennsylvania Ave in DC. I had been following WCK's work for some time and knew I had to be involved. I have been doing volunteer work in some capacity since ninth grade and was excited to use some kitchen mojo to help others. If I remember correctly, we did something like 11,000 meals on my first day in DC. It was non-stop. I am pretty sure I benefitted as much as the folks that needed the support. I got to be around the collective embrace of people all looking to help, many of which were furloughed themselves. Chef Mollie, who is one of the leads for the entire Nats' relief operation, volunteered with me back then, and now she is running the show!
When Corona threw a sucker punch at all of us, I was watching what WCK was amping up to do back in DC and immediately got involved. Back at Jose Andres' FoodLab on Pennsylvania Ave, I helped prep and pack meals that were being shipped throughout the district. Very soon after the activation started, we moved to Nationals' Park and our production grew exponentially, hitting 16,000+ in a day at our highest. I, too, became furloughed at my job and there happened to be a need for somebody to take on the purchasing and procurement side of the operation. I went from a twice-a-week volunteer to a contractor making the drive to DC every day.
NWKW:
WCK is the brainchild of Chef Andres, who is a modern day Renaissance person. In addition to TV fame and many successful restaurants, he has also taught a "culinary physics" course at Harvard. Have you had a chance to meet Chef Andres? If so, what was that like? 
Chef Jim: 
I have met and talked with him a few times. His energy is as palpable in person as it is exciting in the media. The first time we spoke was at the WCK fundraiser, Dine and Dash. A few months earlier I had taken part in the Chefs Stand Against Hate fundraiser in Pittsburgh to aid the victims and families of the shooting at the Tree of Life synagogue. I had written about the experience as it hit very close to home - Tree of Life was my synagogue when I lived in the city and the shooting was on the anniversary of my Bar Mitzvah. Chef had tweeted about the article and I thanked him for doing so. He put a WCK icon pin on my shirt and gave me a huge hug. We talked for several minutes and to this day, I remember him telling me, when communities are hurting and can't feed themselves, we'll be there. We talked for quite a while about community support, even with several people vying for his attention, he took time to share with me. Eyes welling with the care and support of this amazing figure, the impression he left on me at that moment will never be dulled.
NWKW:
Can you tell us a little about the volunteers? What brings people to volunteer? How have things changed since the lockdown?
Chef Jim:  
The volunteers are the lifeblood of the operation, not only for the hands-on work they do, but for the indefatigable energy they share. All different colors and flavors of life, from culinary professionals to writers to business people to the legal sector to retired friends, they bring so much. Often, the volunteers are there multiple days a week, working in some of the most repetitive tasks you can imagine. But, damn if they aren't there the next day and the day after that. Nobody complains. Nobody gets fussy. Mary is there Monday through Thursday, rallying the troops with ten times the energy of most! Greg, Steve, Bonnie, Sharon, and so many more, that just go and go and go. There is a collective understanding that when the message goes out at the end of the day with our production numbers, that, hey, we just helped 9,436 people. Or we distributed 1,118 meals out in Langley Park. The sense of duty, I suppose, is what brings anybody into this type of relief operation. I think it is very personal, with each person having their own motivation. I haven't always made the best decisions in my own life. Being involved with helping where I can, I hope, helps balance the wrongs.
NWKW:
Do you have any interesting anecdotes about prepping food at Nationals Stadium?  
Chef Jim: 
So many stories! The stadium itself is an amazing venue in which to prepare food. Walking past the World Series Champions' clubhouse deep within the catacombs of the stadium never gets old. Sitting up in the 200's section for lunch has been a memory burned in for a long time; it isn't every day you get section 201 to 243 to yourself for a meal. Chef Matt, one of the leads at the Park, scored us some great burgers from Shake Shack and insisted on making milk shakes on a sweltering Saturday. We got to share in a few minutes of normalcy during this Corona mess by having a meal together, like the old days of staff meal in the kitchens from where we came.
The characters make the stories, though. We have had a few wipe-outs transporting food from one side of the stadium to the other. Some of the funniest - and hardest working - guys I have worked with are stationed over in the BrewHouse behind center field. Part of their daily activities include moving food prepped behind home plate out to their kitchen. Inevitably, the disastrous tipping over of roll racks has happened. Of course, it isn't funny at the time, but reminding Erik and Craig to not dump rice all over the stadium makes for good laughs.  
NWKW:
I know you're a fan of our old school, Chef 8. What would you say to us bringing back a limited edition "fat-bellied" chef knife?

Chef Jim:
The chef 8 is my go-to. Seriously. I have worked that knife through cases and cases (and more cases!) of vegetables than should be allowed. It isn't a dainty knife. It is hefty and rugged. I like that type of durability. It definitely has character that many knives may not want to share - it means business! There are a lot lighter knives out there and certainly, NewWest has tools that are brilliant in design and execution. The knuckle clearance space and the beefy handle is a perfect extension of my hand. The classic 8 will be the knife I will always carry in my toolbox. If you bring it back and it does well, you can send the commission checks as a donation to WCK! If it doesn't do well, I'll take them off your hands!