The New West Team's Holiday Wishlist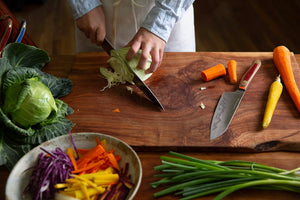 Ever wondered what's on the New West KnifeWorks team's holiday wishlist? We sat down with three staff members and picked their brains about what items they're currently drooling over – as well as what they're getting their friends and family this year –  so take a look and get inspired in the season of giving. 
Margot Weber, New West KnifeWorks Brand & eCommerce Manager
On Margot's Wishlist
"I already have my favorite New West Knife: the Santoku! I use the Santoku and the Petty Knife the most in my kitchen. I cook a lot, and my fiancé has worked in restaurants for over 20 years so is always bringing home new techniques and dishes to try. The Santoku is perfect for chopping veggies and making mirepoix."
The Teton Edge Santoku: the perfect fruit and veggie chopper.
On Margot's Gift List
"I'm giving my sister the Petty Knife this year. She used it at my house and loved it; it's the perfect knife for someone who cooks a lot for themselves. It's super efficient to cook with and easy to clean. My sister went to culinary school and now works in food distribution, so I was surprised when she asked for the Petty instead of something larger, but she loves how effortless it is."
The Santoku and Petty knives make a pretty pair.
Arthur Blue, New West KnifeWorks Media Manager
On Arthur's Wishlist
"I really want the 8" Chef Knife and the Deli Knife! It's nice to have a bigger blade,  and the 8" is still light and balanced and you have plenty of control, can still do nice detail work. Then, for tomatoes or other vegetables with thicker skin, the Deli adds versatility. If you're cutting squash or something with a thicker outer layer, the serration helps break it down. Having a regular straight blade and one with serration is huge."
The 8" Chef is a must for serious cooks. 
The Deli knife will add versatility to your quiver.
On Arthur's Gift List
"My dad has used New West knives for years, so I actually used them for a long time before working for New West. He has most of the knives he needs already, so I would get him the firelight kit from Mountain Man Toy Shop. It's an emergency fire starter, and you can literally pour water onto it and still light it on fire. My dad is a backcountry pilot and likes flying into backcountry air strips and camping, so he has a lot of survival gear. Even in a non-emergency situation, it just makes starting a fire so much easier." 
Anthony, New West KnifeWorks COO
On Anthony's Wishlist
"The Bison Coat from Mountain Man Toy Shop... everything about it is incredible. My great grandparents owned one of the biggest tanneries in the United States at the turn of the century in Newark, NJ.  My grandparents also owned a women's boutique that specialized in leather and fur coats. So, for me this Bison Coat is nostalgic. The folks who make our bison coats come from Cheyenne, Wyoming, and you just can't find anything like them anywhere else. They take hides from animals that were harvested for meat and save them from the landfill. I channel my inner Robert Redford while wearing this thing.  I want to have this thing coat checked just for the reactions."
The Bison Coat on Jeff Hornsby, credit: J. Hambleton
On Anthony's Gift List
"This year, I'm gifting my in-laws a set of New West KnifeWorks steak knives. They helped so much with our wedding, and I can't thank them enough."
The Steak Knife set: the best way to get in with your in-laws.