Crawfish Pie Recipe: Chef Nakakura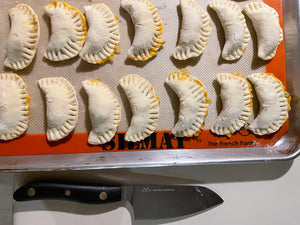 Chef Ray Nakakura moved to the Jackson Hole region from Cincinatti Ohio with a passion for mountains, food and bluegrass music. He is one of the talented chefs at Forage Bistro and Lounge in Driggs Idaho. A restaurant known for its creative cuisine and mouthwatering deserts. Ray recently received the 5" Chopper and was inspired to share this Crawfish Pie recipe with us. (This dish is not featured on the menu at Forage.)

"I love the chopper knife! It's super fun and I'm using it more than I thought I would, even with a lot of knives at my disposal at home and at work. " -Chef Nakakura 
1 cup (2 sticks) unsalted butter
1 cup diced yellow onion
½ cup sliced green onion
2 tablespoons diced bell pepper
2 tablespoons diced celery
2 cloves minced garlic
1/2 cup all-purpose flour
1 cup seafood stock
1 pound crawfish tail meat
1 teaspoon paprika
1 teaspoon Cajun Seasoning
Salt and pepper
Dash of hot sauce
2 sheets puff pastry 
Crawfish Filling
•In a large pan over medium-high heat, melt the butter. Add the yellow onions, green onions, bell pepper, and celery, and sauté until the yellow onions turn translucent, about 5 minutes. Add the garlic, lower the heat to simmer, and stir to combine. Sprinkle ½ cup of the flour over the mixture, stir in well and cook the flour until it turns golden, 10-15 min.  Add the stock, bring to a boil and reduce to simmer while stirring. 
•Add the crawfish and simmer for 15 minutes. Add the paprika, Cajun seasoning, and season to taste with salt, pepper, and hot sauce. 

If mixture is not thicker than a stew consistency, sprinkle in extra flour while stirring and simmering one Tablespoon at a time until it has thickened a little more. 
Cover and refrigerate until ready to use.
Preheat your oven to 350ºF.
•On a large countertop surface, sprinkle lightly with flour. Unwrap and lay out one of the puff pastry sheets. Unfold and sprinkle with more of the flour. Using a rolling pin, roll until it spreads out and expands to a thickness of ¼ inch. Using a 5-inch-diameter circle as a guide, cut around the dough with a sharp knife. Try get at least 4 each sheet. Do the same with the second dough sheet.

•Using a tablespoon add about 2 tablespoons of the crawfish filling to the center of a circle. Brush along the edge of the inside of the dough with egg and fold over the dough to form a half-moon shape. Using the tines of a fork crimp the edges to seal in the filling. Place the hand pie on a baking sheet lined with parchment. Repeat with all the pies.

At this point, you can refrigerate the pies until ready to bake. Just before baking, brush the top of the dough with egg wash and sprinkle with kosher salt. Bake in the oven until golden brown, about 45 minutes.
ENJOY!