Ciaohaus Cookbook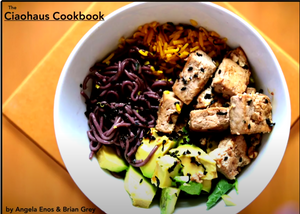 In the last year, many have found themselves cooking at home far more frequently. When you are the one preparing your food, simple knowledge of making it taste good is essential.
Angela Enos and Brian Grey, professionals in the theatre, an industry first to close down and probably one of the last to reopen, experienced much more time at home in 2020. The time inspired them to embrace the world of home cooking. They created a cookbook of their favorite quarantine recipes, the Ciaohaus Cookbook, which they have been gracious enough to share with us and our fans. (Check out the cookbook below!) 
We reached out to Angela & Brian for more information on this tasty project.
Tell us a bit about yourselves?
Angela: I'm a designer and costume shop administrator for theatre, though more recently I've become the proprietor of a small business selling handmade textile goods (like customized masks!). Weird things happen during pandemics. 
Brian: I'm a professional actor, voiceover artist and audiobook narrator. When not doing any of these jobs, I teach vinyasa yoga (mostly via Zoom these days) and tend bar. During dry spells (and pandemics) I enjoy time on the couch with Angela and our cat, Masha.
What inspired you to create this cookbook?
At the beginning of quarantine, back when we thought it might last 3-6 weeks, we were cooking every meal at home out of necessity, using whatever ingredients we had on hand since supplies were scarce. We got creative, approached it as a challenge, and started turning out some truly solid, albeit simple meals. Pretty soon, we both remarked that we were eating better than we had in a long time, which was a strange thing to realize under the circumstances. 
As quarantine dragged on and we found ourselves canceling trips to visit family and spending every holiday in isolation, the idea of a cookbook started to take shape as something that we could share with the people who we were missing. Cooking together had become something we really valued and our culinary skills were improving, so inviting loved ones to "share" a meal with us over the distance was a really appealing idea. This is part of why we left room for improvisation in the recipes, so individual chefs could tweak the ingredients to work with their own dietary needs and preferences.
What was the biggest change for you during "shelter in place" or the pandemic in general?
As theatre professionals, our work schedules are bananas. If we're lucky, we eat dinner together one night a week. Going from barely seeing each other to spending every waking moment together was a huge adjustment and not without its challenges early on but ultimately we both remembered that we actually really like spending time with each other. 
How has your experience been using NWKW knives?
A total dreamy dream. We owned one NWKW knife prior to the project and it was already the star of our cutlery drawer, so getting to work with more styles and sizes was a huge treat. Angela in particular is a big nerd for everyday tools that are beautifully designed and extremely functional, so this was right in her wheelhouse.
Fun fact: Angela's first ever job as a teenager was selling kitchen knives in San Francisco.
The ease of cutting and dexterity of NWKW knives is actually the reason why we chose to feature the roasted butternut squash recipe in our video, since it requires some of the toughest cutting and the most delicate peeling. 
What message would you like us to share with our audience?
Our motto through all of this past year has really been to "just do your best" and that's the ethos of our cookbook as well. These have been unbelievably stressful months and coping with it can be overwhelming, but there's something really comforting about going into the kitchen, preparing some simple food, and nourishing yourself. It doesn't have to be fancy or pretty or life changing. Just show up, give it your best, and don't be too hard on yourself if it isn't perfect. At the end of the day, you still cooked dinner, and that's enough.
If nothing else, two things really jump out. One: Food prepared with love can make you feel really good - and you deserve to feel good! 
And two: Find something meaningful you can share with a loved one or a friend. It doesn't have to be a cookbook! (But it could be. Steal our idea - we won't mind) 
This past year has been so isolating on so many levels, and finding connection in the best of times can be a challenge. So it's all the more valuable and rewarding to find ways to forge or strengthen bonds with friends and family when we're forced to be apart. 


How to Find Angela & Brian: 
Angela's shop, House of Ciaoski: https://www.etsy.com/shop/HouseOfCiaoski
House of Ciaoski on Instagram: @houseofciaoski
Angela on Instagram: @thepantswitch
Brian's websites:
 www.briangrey.net / www.briangreyyoga.com
Brian's Instagrams: @actinggrey /@briangreyyoga
The Ciaohaus Cookbook