Chef's Table: Nic Jones of Napa Valley's Goose & Gander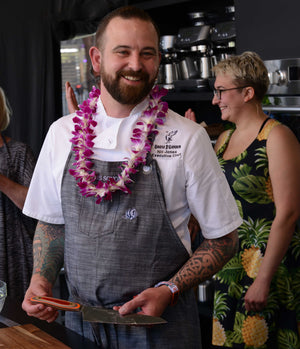 Nic Jones, the executive chef of Goose & Gander in Napa Valley, is known for his charcuterie expertise. No surprise there, considering his Italian family and culinary background. At Goose & Gander, a gastropub with its finger on the pulse of one of America's best culinary scenes, he oversees a charcuterie program that includes making their own hams, salami, and dry aging their own steak. Along side farm manager, Shelley Kusch, he also manages the restaurant's three full production gardens, which grow produce on a total of 2 acres.  
Nic is, according to New West KnifeWorks COO Anthony Campolattaro, "the best chef in Napa Valley, and someone who goes the extra mile for farm to table ingredients." Food & Wine raved that Nic's dishes "epitomize a menu that brings together impeccable ingredients, smart technique, and old-school deliciousness."
When New West opened its knife shop on St. Helena's Main street, Nic was an early admirer. He adopted the ultra-sharp, Rocky-mountain-made knives as go-to tools in his knife roll and even test drove the 12" Chris Kidder Chef when it was first released. New West's steak knives are also part of Goose & Gander's special event table settings.
We sit down with the star chef, who has studied under meat masters David Katz and Stephen Barber, and talk live fire cooking, knives, wine, and unusual desserts.
 Executive Chef Nic Jones & New West KnifeWorks COO Anthony Campolattaro
You're from California, but relatively new to Napa. What brought you to Napa Valley?
I came to study wine. I moved to the valley in 2012 and attended a very intense 9 month program at The Culinary Institute of America, then took my level two certified sommelier course.
What wines are you into currently?
I veer towards Pinot Noir and Syrah. I like a lot of old world wines that are more on the earthy side, like Rhone Valley reds. 
How did you get your current position as executive chef at Goose & Gander?
I was working at Farmstead as a sous chef, where I built and ran their charcuterie program. I also ran a live fire cooking program, where whole animals are cooked over live fire. I became a regular patron at Goose & Gander, and when it was time for them to hire a new chef, I got offered the position. I actually got offered the position at a BBQ where we were grilling octopus.
YUM. What do you usually bring to a neighborhood BBQ?
Homemade sausages to throw on the grill!
Chef Nic expertly using his New West 9" Chef to break down a whole cochon de lait for summer rolls at the food & music event, the Williams Sonoma Culinary Stage at BottleRock 2019.
You're known for your culinary presence from a relatively young age. Had you always wanted to be a chef?
I grew up with an Italian mom and grandma, and I was always in the kitchen with them. I graduated high school early at 16 and was kind of off on my own,  and I took my first kitchen job washing dishes on Catalina Island. My mom reached out to me about this really cool culinary school, so I moved back and enrolled at Le Cordon Bleu in Pasadena.
Where did get your first real world culinary experience?
I worked for Wolfgang Puck Catering [originally Spago Catering]... we did The Grammys, Rose Bowl, things along those lines. I worked at a bakery in the morning, went to school, and then worked at the catering company after school.  Later I took a job at Sheraton Grand in Sacramento, where I got a lot of line cook experience, short order kind of deal. I think every cook should go work at a hotel on the line, or a breakfast place, at least for a little while. It makes you a faster and better cook.
What's your least favorite ingredient to cook with, i.e. your nightmare item on a chef's challenge or something like that?
I don't like sugar substitutes, I think they're so gross.
And your favorite ingredient to cook with?
I love to cook with very heavy umami-driven flavor profile, which shows up a lot on Goose & Gander's menu. We use liquid koji a lot , which is a rice culture that is used to start fermentation in sake, and is also used in a lot of other Eastern world fermentations. When you add it to say, our risotto, it has [naturally occurring] glutamate that makes the dish more savory.
Goose & Gander's custom engraved New West steak knives - used for special events at the restaurant.
Are there any other unusual or interesting ingredients you've been incorporating into the menu at Goose & Gander? 
We made this chocolate soufflé  for our chef's table... it was a traditional soufflé but we used candy cap mushrooms, which have this savory maple flavor. You would never guess that you were eating mushrooms. We use candy cap mushrooms a lot; tonight we are incorporating them into a mole sauce that will go with a braised pork shoulder. Also, our menu right now features a crème brûlée with candy cap mushrooms. They pair well with a sweeter Madeira for dessert.
Speaking of wine pairings, what is your favorite wine/food pairing? 
It always throws people off how a nice dry Madeira goes really well with a lot of foods. I host an umami class up at the Culinary Institute of America a couple times a year,  and people are surprised by Madeira, it goes really well with mushrooms, with tomatoes, with chocolate, and all sorts of different umami-driven foods.  
Name an amazing restaurant that you ate at recently.
I was just in Boulder, Colorado and had a really a killer meal at Corrida. I ordered a 2-ounce A5 Wagyu steak bavette that was insanely good.
Which of the New West Knifeworks knives that you own are your favorite?
I use 9" Chef's Knife a lot. I recently got the 12" Chris Kidder slicer, and I really like that too. I use the Mini Paring Knife all the time for trimming hams.
 Chef Nic slices his house-made salami with his 9" Chef: extra sharp for perfectly thin slices.
 Do you have any exciting projects coming up?
We do an annual dinner in Virginia at Abingdon Vineyards, and this year it is on November 16th. The dinner will be for approximately 120 people, we will be cooking game meat over live fire that we hunted for the few days leading up to the dinner. New West KnifeWorks knives will be in full representation. I gifted the owner of the winery, Loren Gardner, one of the knives for his birthday last year and he loves it!
Awesome. Ok, to close: describe your ideal three course meal.
To me, the perfect meal is the way we eat while in Italy. We start with a board of salumi and cheese, followed by pasta and finish with gelato. Pretty typical day in Italy, that is perfect to me! ■
Treat yourself to Nic's culinary creations at Goose & Gander, located at 1245 Spring Street, Saint Helena, CA 94574 | 707-967-8779
Visit our neighboring knife shop in St. Helena at 1380 Main Street, St. Helena, CA 94574 | 707-244-5188
Shop Nic's favorite New West Knives: the 9" Chef's Knife, the 12" Chris Kidder, and the Mini Paring Knife