Chanukah Latkes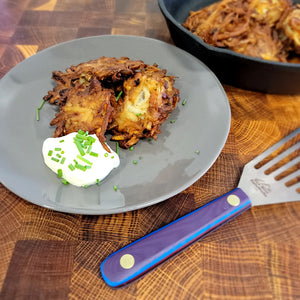 The last time I was in the New West Knife Works store I discovered the slotted fish spatula.  This style of spatulas is the queen of spatulas as far as I am concerned.  It is in the top five tools in my world.  And when I saw NWKW was making one for the G-fusion line (and in purple!) of course I had to have one.  I even begged Sam at the Park City store to let me take the display model, but he made me wait until they had them in stock for sale.  This gave me time to come up with a recipe to showcase my favorite tool.  So here we are, making Chanukah latkes.  The perfect opportunity for me to take this spatula for a spin.  The perfect tool for the perfect holiday food!  Chanukah  is really early this year, it starts on Sunday November 28th at sundown.  Why is it so early?  Ask the lunar calendar Gods because I still don't understand how it works.  I do understand the story of Chanukah and the importance of oil which is why we eat latkes fried in oil.  Some families eat donuts, also fried in oil.  My family didn't do that, and when I found out other families had donuts, I immediately started eating donuts to make up for the lost years.  I felt it was owed to me.  The importance of oil has to do with and oil burning menorah and the Maccabees thinking they only had enough oil to burn for one night but by a miracle it lasted 8 nights.  In our house Chanukah means latkes, so let's make some!


Chanukah Latkes

3lb russet potatoes, scrubbed 

1 large onion

3 eggs

1 cup all-purpose flour

3 Tablespoons kosher salt (divided)

2-4 cups canola oil

Yields 40 mini latkes (2 T scoops) or 20 medium latkes (1/4 cup scoops)
Grate the potatoes (no need to peel them!) into a mesh colander set over a large mixing bowl.  I like to use the biggest holes on the box grater.  Then grate the onion over the potatoes and mix them together with 2T of salt.  Let the mixture stand for 15-20 minutes to drain some of the liquid.  This step is important!  It will make crispy latkes as well as keep your potato shreds delicate.  Discard the liquid that has gathered in your mixing bowl and toss the potato onion mixture with the flour, eggs and remaining 1T salt until everything is well coated.  Put the mixture back into the colander set back over the mixing bowl.  Do it over the sink so you don't make a mess!  Liquid will continue to drain while you fry latkes, that's ok.  In your largest cast iron skillet (the one you bought during the pandemic), start with enough oil for the latkes to sit in but not be covered, about ¼".  Scoop the mix by ¼ cup for large ones and 1/8c (or 2T) for mini latkes.  Don't crowd them in the pan or they won't get those crunchy edges.  Fry until lightly browned and flip and cook until lightly browed on the other side.  Remove them from the pan with your SLOTTED FISH SPATULA and place them on a plate or sheet pan lined with paper towels.  Let cool just enough so you don't burn your mouth.  Then dive into the first one as your "tester".  You earned it.  Adjust the salt if you need a bit more, you can sprinkle a little salt on them after you remove them from the oil if they need it.  Continue frying, and testing,  adding oil to the pan as needed.  

A few notes:  yes, you can sub sweet potatoes, but I am a latke purist.  If it's Chanukah then they are "latkes" and latkes should be made with russets.  Save the sweet potatoes for making "potato pancakes" pretty much any other time of the year.  I fully support that!
If you like a dense latke (NY deli lovers know what I am talking about) then go ahead and use a smaller hole grater or the standard grating attachment on your food processor.  I prefer a crunchy more defined latke where the shreds of potatoes form little whisps that stretch out into the oil and get crispy, so I prefer the big hole grater and grating by hand.  
Building on the Chanukah latke purist thing, I insist on canola oil.  Any other time of year for any other type of frying I say olive oil is great, but here you need canola.  Canola.
Serve with small bowls of apple sauce, sour cream and chives and lots of napkins.  Enjoy!
Check out Chef Rebekah in Park City.