Breaking Down the Intimidation Factor of the 12" Kidder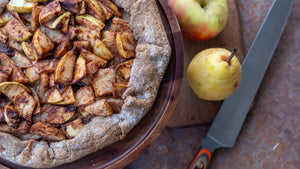 I'll be honest. The first time I saw the Chris Kidder Special 12" Chef Knife I wanted to turn and run the other direction. What on earth would I ever need a knife like that for? 
The long, lean knife was created with input from famous Los Angeles Chef Chris Kidder himself, with a 12-inch blade that adds extra leverage for chopping and slicing. Beautiful? Yes. Inviting? Not at first. The sword-like blade is an intimidating tool to say the least, but I knew I needed to try it out before writing off this gleaming behemoth. 
All that is to say is that I'm certainly glad I gave it a try. What presented as an expert's-only tool fit for cooking's elite has proved to be a surprisingly versatile tool knife in my set, not at all unwieldy or terrifying (as I'd imagined). 


Unlike many long slicing knives, the 1.75" blade is a little bit wider, preventing my knuckles from hitting the cutting board and also lending a certain amount of stability. No taper along the first 4 inches of the blade keeps a stiff and reliable feel while chopping with the heel, while closer to the tip the blade flexes just enough for thin slices in ripe fruits and vegetables or slow-cooked meats. 
It doesn't take long to get used to the extra length (as long as you pair it with a large cutting board), and I've actually found that tasks feel remarkably easier with the Kidder, creating impressively clean cuts with marginally less effort. 
With my newfound appreciation for the 12" Kidder, I decided that the best juxtaposition to this intimidating knife would be to create a cozy, comforting recipe that would fill up my kitchen with warm, sugary smells. 


Galettes are a dessert I turn to year-round, in part because they're so quick and easy to make (despite their impressive presentation), and also because I can adapt them with whatever fruits or berries are in season. Rhubarb and strawberry galettes in the spring, peach and nectarine topped with vanilla ice cream on hot summer evenings, and apple, pear, and plum treats as the days get cooler.
Whether I'm making a galette or a pie, my go-to pastry recipe is adapted from the Joy of Cooking's All-Butter Pastry Dough. I like to add a little whole wheat flour and subtle warming spices to my dough, which comes together in less than 10 minutes for a spontaneous fall dessert. Pie crusts can seem intimidating, but label something as "rustic" and you can get away with just about any final product. 
This treat has saved me many an evening where I'm scrambling for a fun but quick dessert for a dinner party. While I felt a bit silly at first, the Kidder actually created the perfect thin slices of apples and pears, furthering my journey from skepticism to obsession. 


Rustic Pear Cardamom Apple Galette
Ingredients
Pastry dough (adapted from the Joy of Cooking)
• 3/4 cup all-purpose flour
• 1/2 cup whole wheat flour
• 1/2 tsp. granulated sugar
• 1/2 tsp. ground cinnamon
• ½ tsp. ground cardamom
• 1/4 tsp. salt
• 1 stick (½ cup) cold unsalted butter, cut into 1 Tbsp. cubes
• 3 Tbsp. ice water mixed with 1/2 Tbsp. apple cider vinegar
Filling

• 4 Tbsp. unsalted butter, melted and divided

• ¼ cup apple butter, homemade or store bought 

• 1 large apple, sliced ⅛-inch thick 

• 2 medium pears, sliced 1/4-inch thick

• 3 tsp. corn starch 

• 1 Tbsp. lemon juice

• 1 Tbsp. maple syrup

• 1 tsp. vanilla

• 1 tsp. orange zest (optional)

• 2 Tbsp. white sugar

• 1 tsp. cinnamon

• 1/4 tsp. ground nutmeg
Directions:
1. Preheat the oven to 425°F. 

2. In a food processor, pulse together the flours, sugar, cinnamon, and salt. 

3. Add the butter, and pulse until butter is pea-sized (this takes about 5-10 seconds in my food processor). 

4. Sprinkle the dough with the ice water/vinegar mixture and pulse again until the dough  sticks together. If it's still too crumbly, add ice water 1 tsp. at a time. 

5. Shape the dough into a disk and roll out on a counter or cutting board dusted with flour. You can also make this dough ahead and wrap the disk in wax paper and store in the fridge or freezer. 

6. Roll the dough out until it's about 12 inches in diameter and place on a large baking sheet. 

7. Brush the pastry dough with 2 Tbsp. melted butter and spread apple butter across dough, leaving a 1-inch border around the edge. 

8. In a small bowl, stir together the apple and pear slices, corn starch, lemon juice, maple syrup, vanilla, and orange zest until everything is just coated. Do not over stir.

9. Layer the pear and apple slices onto the pastry dough, slightly overlapping. 

10. Fold the edges of the dough around the pears and apples. 

11. Stir together the sugar, cinnamon, and nutmeg. 

12. Drizzle the remaining butter over the edges of the dough, then sprinkle with sugar/spice mixture. 

13. Bake for 16-18 minutes, until the pastry turns golden brown around the edges. 

14. Cool and serve warm. 
Lily
Krass
 is a freelance storyteller and recipe developer based in Jackson, Wyoming. In addition to writing for ski and outdoor publications like SKI, Powder, and Outside Magazine, she also co-authored a cookbook: 
Beyond Skid: A Cookbook For Ski Bums
, a collection of recipes inspired by life in a mountain town.