Aiding Our Napa Neighbors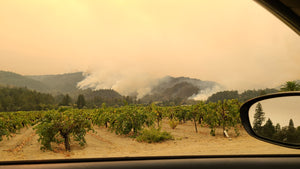 2020 has been an especially challenging year for wildfires in the Napa Valley area. Extremely dry weather, coupled with high winds have made the fire season especially dangerous in the Napa area.
Not only was the air quality extremely poor, but the entire area was on evacuation warning, making it feel like a ghost town. The New West KnifeWorks Retail location in St. Helena closed during the worst of the Glass Fire. While our store was not under fire threat, our employees needed time to tend to their families and communities. 
We spoke with our St. Helena Store Manager Dascia Skadal about what the season has been like in Napa. 
First off how is everyone doing now?
For a lot of people who didn't lose their homes, it has returned to business as usual. For other people, they have lost everything. Nobody plans in their life a time to start over completely from nothing. People are deciding if they want to rebuild or go a different direction. The Napa Valley Community Foundation is helping people who don't even have a floor to stand on. That is the biggest area of need in the community, helping those who lost everything.
What were you and the St. Helena NWKW team up to during the worst of the fires?
The fire started early in the morning on September 27th, embers created hot spots up the valley and the fire expanded. Evacuations started. The following day, reports of damage were coming in. Power was out across the Valley. Some Napa Valley landmarks were confirmed to be totally destroyed. Myself and our retail sales associate, Elizabeth, were helping prep our families for safety, and housing evacuees. 
Smoke was thick and air quality was poor throughout. We spent time clearing fire hazards, setting up sprinklers, hosting, and cooking for evacuees. Elizabeth took some of our Mountain Man Toy Shop T-Shirts to donate to residents that had lost everything they owned. The least we could do was help put a shirt on their backs. That's the level of destruction people faced.
My boyfriend, Stewart Hannah, who also sharpens knives at the store, went with some friends from his rugby club to a home and family winery in the mandatory evacuation area very close to the fire and protect it until Cal Fire arrived.
Fire Prevention Team
On Saturday I was at my parents' house and we were on ember watch all night. We took turns sleeping in shifts to make sure an ember didn't land in the yard. Elizabeth met with Chef Jim from World Central Kitchen who was cooking for firefighters in Sonoma. Read more about our collaboration with Chef Jim here.
After the weekend things calmed down, the air quality cleared up and the worst was over. We were able to reopen the store on Wednesday, so we were closed for a week.
Chef Jim & Elizabeth
What was the total impact of the fire on the area?
The initial Hennessey Fire weeks prior turned into the LNU Complex fire and affected 254 homes. This more recent fire, the Glass Fire destroyed 600 homes.
Talk about what New West KnifeWorks is doing now to help our neighbors in Napa?
There are people that have lost everything they own. The Napa Valley Community Foundation has started a fund to help people address basic needs and move forward. You can read more about the fire relief fund here. We wanted to help contribute to this fund, so we've put together a Knife Raffle. New West KnifeWorks is donating knives for raffle to randomly selected winners. 100% of the funds collected in the raffle will be donated to the NVCF Fire Relief Fund. This is a small piece, but we hope to be able to assist in getting help where it is needed most in our area.
Purchase Raffle Tickets Here
Winners will be drawn on November 2nd.