Making Peace with the Universe - One Knife at a Time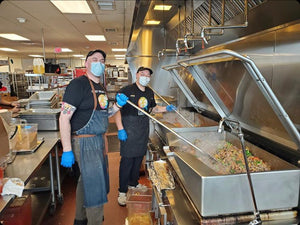 Over the summer we caught up with Chef Jim Berman, a long time pro and user of our knives. Jim was making meals for those in need at the World Central Kitchen site at National Stadium in D.C. Many culinary workers have been displaced by the events we face as a nation, but these passionate people are like high quality steel- sharp, tough and resilient. Chef Jim was most recently cooking for a 24 hour emergency ops camp near Sonoma for utility workers fighting to keep the power on. With a shop in St. Helena, New West has experienced the fires first hand and our hearts are with our neighbors recovering. 
Chef Jim writes about his experience living on the edge as a culinary worker in the middle of a pandemic. At New West KnifeWorks, we make tools for pros because we share their passion for making things- and we are moved to share Jim's story with you. 
To Support Napa Valley Fire Relief efforts, we have put several of our knives up for Raffle, now through November 1st. 100% of the proceeds will go to the Napa Valley Community Foundation, to aid areas in Napa that need it most. 
Purchase Raffle Tickets Here for your chance to win
Making Peace with the Universe - one knife at a time
Nothing but your hands and whatever you can hold in them. That's all that is certain when everything else is broken, blinking, closed, and quarantined. Hands and tools. What were once undeniable certainties—crowded streets, busy restaurants, packed lawns of dancing concert-goers—are the fodder for articles on how everything we know won't be what we are going back to. Where does that leave the restaurant industry and the people in their, mostly, hallowed kitchens? 
Starting over is a reality. There are some re-openings and even some openings from scratch. There is that hint of half-full optimism. Going in one way and finding another way out is the new mantra. Big names are taking a tumble and nobody blinks; huge pay cuts and layoffs are our reality. Want to work for sixty-cents on the dollar? Welcome to the hospitality industry, version two point ohhhh. As in ohhhh shit. Hands and whatever you can hold in them are what matters now. 
But I have my hands. And full they are. Full of responsibility to still take care of everything they did before this mess. Have knives, will travel, right? It means you get to pass something along, like kitchen knives, that will outlive merely a memory. Building something out of wood or steel means you get to leave something behind. Having a craft is the highest calling. I am beyond fortunate to have friends at New West KnifeWorks that are way too generous with their knives. They share too much with me. And then I get to share. Just a few weeks ago they sent along a G-Fusion Teton Edge Santoku that landed in Erik's hands at World Central Kitchen's relief site at Nationals' Park. Erik and I, along with about 70 other volunteers, leadership team, and contractors pushed out meals to feed the District's economic casualties of Corona, often in the neighborhood of 10,000 meals per day. Erik struck me as a genuine guy. We struck up a conversation while running slicers to cut turkey for the day's 1,000 sandwiches being built. He layered the turkey slices neatly. When it came time to clean up, he lifted the slab of machinery to clean every surface, carefully taking apart the slicer, washing, rinsing, and sanitizing the little nooks that very reluctantly gave up their debris. 
"Chef, man, I take pride. Do it right," he said matter of factly. He had a sincerity in his voice. He cared. Of course he did. Doing the work to feed thousands of people every day requires the highest level of care. This beautiful piece of culinary craftsmanship from New West belonged squarely in his giant grip. 
Erik, some six-foot-eight stoic giant asked to talk to me outside a few days following our turkey adventure.
"Chef, thanks, man. I appreciate being here. You don't know how bad it was before I got here. It was bad, man. I didn't know where I was going," his voice cracked. "I am just so happy to be here. Thank you, man. Thank you." We broke Corona protocols as he hugged me into his mondo arms. I am still recovering with bruised ribs and a more than crushed heart. 
New West KnifeWorks ran an auction to bring some footing to WCK's relief operations. Over $1,000 went to support the nonprofit's mission. With fires igniting through the west and right in the backyard of New West's St. Helena shop, World Central Kitchen is on the ground feeding the first responders, including Cal Fire and firefighters coming in from all over. And, again, New West is kicking in knives to raise money to support the Napa Community Foundation. I am on a support site, as well, helping the helpers keep the power on along the Pacific Coast during all of this mess. Liz from New West drove down from that very much endangered St. Helena shop to drop off some knives for our operation.  
In a scenario where the sun clouds over with technicolor ash and sunrise looks like a nothing-rise, having really excellent tools with which to work is a real high point. This time around, I got to test drive the 12" Chis Kidder Chef's Knife. (Watch Chef Jim's video review of the knife below). Imagine a lightsaber. Now, put on epoxy fiberglass crafted handle. Add a rounded spine to fit neatly under your index finger as you pinch the blade. Feel that control? That friskiness comes from a balanced piece of hardware that is born from a determinate design. That's this knife. Soft lines with a very intentional grip on this tool make it more than formidable for kitchen work. The caress of the knife makes the cutting board beg for more. It has a lean belly and tight build. This is not a chopper or a rough rider. Rather, this knife is more scalpel and less axe. The powder steel brings harmony to the cutlery universe. Easy to hone, the long-lasting edge is precise and reliable. Cutlery this expertly tricked out can't be kept in a traveling toolbox to and from relief sites.
Which leads me to Maribel Salas.
'Maria' got herself to Washington, DC from Peru in 2005. At 28, she was married to a tyrant that used her as a punching bag. She got her citizenship through the Violence Against Women Act, thankfully. Leaving Peru as an industrial engineer, she worked as a nanny in Virginia. Bored with the domestic life, she went back to school. A fervor for baking and cooking, she took the left turn towards culinary studies. I met Maria at the World Central Kitchen activation at the ballpark, fortunate to sample the food she brought in to share. She makes these cilantro tamales that she insists are too much work. I say, whatever amount of work it takes, I am fine with it since I am not making them. 
By 2014, Maribel had two diplomas in hand and rolled into an externship. At George Mason University, "I asked to work in the kitchen at the Southside cafeteria where I learned to bake, [make] sandwiches, cook pizza in the hearth, [work] the breakfast station, the sauté station, the wok station, pasta, grill burgers and chicken for the students." 
"I started my first job in hotels at the Fairmont Georgetown in Washington, DC. In Virginia salaries for cooks suck. I couldn't survive with the $8 per hour. I worked in garde manger for the banquet kitchen; as a cook 3, I learned so much about salads, hors d'oeuvres, cheese, and charcuterie platters. I learned a lot there. I made very good friends and also hated so many people. That kitchen was not for women. I was harassed so much that I got sick and used to cry almost every day. I applied for [a] new hotel about to open, a couple of months before the election in 2016." 
She glows with confidence and is anchored to her culture. At the hotel, "I'd write two different ceviche recipes every week. Guests had come to me to hug me, to inquire about me. Once, a lady sent an email to the GM that she had Mexican restaurants in California and she had traveled all over the world and my ceviche blew her away. That it was the most authentic she has seen here and the ingredients and the layering of flavors." 
Of course, the up-from-the ashes tale isn't without a dying light. The pandemic hit hard. "What I was doing at the lobby [dining spot] wasn't feasible anymore because of Covid. Corporate people decided who stays and who leaves," she sighs.
Sitting alone in a room on a sequestered 'campus' eating room-temperature pizza and less than crispy chicken wings while Independence Day plays for the umpteenth time, Maria and I are talking via Instagram about the state of the job market. She has landed a job—finally!—but it pays minimum wage, plus tips. It's a start. Starting over seems to roll around fairly frequently. She makes the most of it. For her, the Chris Kidder 12" Chef's Knife. It is a lot of knife, but she is a lot of cook. She'll tame it. This knife makes those Instagramable micro-slices of grapes that you can read through. It really does and it will. The work it will do for her Peruvian ceviche? I am anxious to sample. The knife is going out to her by mail. I wish I were there to see her open the box. I bet she'll cry, not because she deserves both the knife and the tears of happiness but because she earned a little love for all that she has worked through and towards. Her dance is not an unfamiliar one. She and I happened to cross paths and I get to tell her gritty tale. Erik, too, has his knife. Looks like the industry couldn't hold on to him, rather, he couldn't hold on to the industry. Line cook work isn't as plentiful as it once was. Erik is crisscrossing the country driving a big rig. I am sure he is eating well when he gets back to his home base. Erik is a helluva talented cook running a truck across I-70. Maria will make ceviche at home since her new gig isn't that kind of place.
For me, though, the road is taking curves that won't have me in her neighborhood for a while. Like I said, the job market isn't what it once was and I have some peace-making to do with the universe. For now, I will live the role of helping out at relief operations and telling stories. These are the stories of the folks that keep the kitchens going with their own steam and the think-I-can, think-I-can attitude of keeping this chugging restaurant industry going up, up, up the hill. These are different times, and not many times that we all like. For now, get used to them. It's all we have. With our hands and knives, we'll build and rebuild. 
 ---
Jim Berman is on a temporary chef assignment on the Pacific Coast. He is a regular contributor to Edible Delmarva and Foodable, among others. @ChefTalkJim
Chef Jim Berman Reviews the Chris Kidder 12" Chef Knife