Winter Harvest Salad with Spice-Rubbed Steak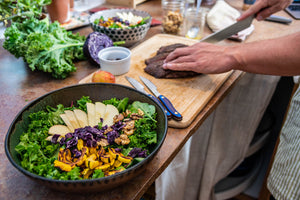 There's nothing I love more than cozy winter meals. But sometimes I get tired of feasting on heavy comfort foods for months on end. How come salads always seem to fall by the wayside when fall and winter descend upon us?
While vegetables can often start to feel like an afterthought late in the year, I love bringing them back front and center, serving dark leafy goodness up as a main dish (topped with plenty of grilled meat of course). 


This winter harvest salad incorporates some of my favorite seasonal vegetables—crunchy kale, sweet apples, flavorful spinach, roasted delicata squash, and caramelized walnuts—drizzled with a honey maple vinaigrette and topped with thick slices of sweet and spicy chili-rubbed flank steak. 
Yes it's a salad, but it's not going to leave you rummaging through the fridge 30 minutes after dinner's over, and it makes great leftovers for a convenient midweek lunch since the greens hold up well even after they're dressed. 


I also love any excuse to pull out the New West Steak Knives. Every time I slice through a juicy, medium-rare slice of meat I remind myself that I should really be doing this more often. The knives have a unique design, with a small serrated edge towards the tip of the knife that protects the blade it cuts through to hard surfaces. The tapered razor sharp design cuts through meat effortlessly—every time I've had friends over for dinner the conversation turns to these knives!
While it's a bonafide steak knife, I've also used it to slice thick pork chops or cube cheese for a charcuterie board. It's a versatile tool that's not reserved for steak night alone. 
Winter Harvest Salad with Spice-Rubbed Steak
Serves 4

Ingredients
Steak
•16 oz. flank steak
•1 tsp. salt 
•1/4 tsp. garlic powder
•1/4 tsp. onion powder
•1/2 tsp. all spice powder
•1/4 tsp. cayenne pepper

Salad
•1 medium delicata squash, halved, cored, and sliced into 1/4 inch half moons

•2 tsp. olive oil

•1 half bunch of green curly kale, chopped

•2 Tbsp. orange juice

•8 oz. fresh spinach

•1 firm ripe apple, thinly sliced

•1/4 cup red or green cabbage, thinly chopped

•1/4 craisins, dried cherries, or raisins

•1/2 cup candied walnuts, store bought or homemade
Dressing
•1/4 cup olive oil

•1 Tbsp. maple syrup

•1 Tbsp. honey (can sub for more maple syrup)

•1.5 Tbsp. apple cider vinegar

•1 small shallot, finely diced

•1/2 tsp. salt
Directions
1. Preheat your oven to 415°F. Layer squash on a baking sheet and drizzle with olive oil and 1/2 tsp. salt.

2. Bake for 20-25 minutes, until squash is golden brown. Remove and set aside. 

3. Unwrap steak onto a plate and pat with a paper towel to dry. 

4. Mix all spices together and rub them on both sides of the steak, then set aside while you prep the rest. 

5. Stir together all the ingredients for the salad dressing. 

6. Add the kale to a large salad bowl along with the orange juice. Massage the juice into the kale with your hands (the acid helps the kale break down and become softer). Pour about 1/3 to 1/2 of the dressing into the bowl and work it into the kale, then add the spinach and stir with salad tongs. 

7. Add the apples, squash, nuts, and cherries to the salad along with the rest of the dressing and set aside.   

8. Heat a cast iron skillet to medium high on the stovetop and drizzle with olive oil. 

9. Once the stove is hot, add steak to the skillet and sear on each side for about 5 minutes. 

10. Let the steak rest for about 10 minutes before slicing.

11. Layer slices of steak on top of salad and sprinkle with salt to taste. 
Lily
Krass
 is a freelance storyteller and recipe developer based in Jackson, Wyoming. In addition to writing for ski and outdoor publications like SKI, Powder, and Outside Magazine, she also co-authored a cookbook: 
Beyond Skid: A Cookbook For Ski Bums
, a collection of recipes inspired by life in a mountain town.