Functional Fine Art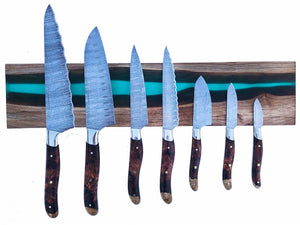 The New West Knifeworks store in Napa Valley, California, looks more like its art gallery neighbors than a knife store at first glance: the walls are adorned with eye-catching custom knives in whitewashed frames, sleek wood cutting boards laid out in interesting shapes, and glass blown kitchen accessories that are as beautiful as they are functional.
The colorful knives and sculptural knife blocks that proudly display them tell the story of the brand, a story that unsurprisingly began surrounded by paintings, sculpture, and mixed media at fine art shows all across America.
Director of outreach Mike Milligan explains, "We see these knives as more than just tools; instead, they embody the passion of their craft." 
Before New West KnifeWorks founder Corey Milligan had a storefront in Jackson, Wyoming and then in Park City, Utah and in Napa, he was making knives as a hobby and decided to try and sell them at a local art fair in Jackson. He made the first knife block he ever created for that fateful show: a basic, upright block made from walnut with a copper base. To his surprise, he sold all of his knives and the knife block, too.
Before New West had a permanent storefront in Jackson Hole, art shows and high end markets, like NYC's Bryant Park Holiday Market pictured above gave rise to a growing company.
Corey explains, "That's what launched the business. I knew I could make it but I was like, wow, I can actually sell it, people actually want to buy it. This can be more than a hobby."
Corey continued to make and sell knives for local art shows, and found himself focusing more on creative knife blocks and unique handles to add to the artistic element of the shows. "The evolution of my knife block making is on display on the countertops throughout Jackson Hole," Milligan laughs.
Three recent rock blocks made from cut granite stones from the Snake River and creatively carved hardwoods.
Soon, he was making knives and knife blocks to sell in art shows like Sausalito Arts Festival, Art on the Pearl, Scottsdale Arts Festival, Crafts Park Avenue, the Smithsonian Craft Show, and more. To get accepted into these shows, in which jurors preview artists' bodies of work and select them on an invite-only basis, Corey found himself getting more and more creative with his knives and knife blocks. He often entered the shows under the "sculpture" or "mixed media" categories and in turn, his work became increasingly sculptural and ornate in order to impress the judges.  
A New West knife block from over 10 years ago with our legacy Fusionwood handles.
One of Corey's creations to impress art-show judges - a steak knife holder made with desert juniper deadwood and steel.
As business boomed and Corey switched his focus from art shows to stocking his first brick and mortar store, he lamented the loss of time and capability to really express himself creatively. Instead, he had to focus on building his business and manufacturing knives to meet demand.
Which is why Corey is so excited to finally be at a point in the business's evolution where he can go back to his roots and focus on creative, individual pieces. His expansion has enabled him to hire new people who are passionate about the art of making, such as Ashely Childs, an artist and jewelry designer, and Kat Gentlman, who builds motorcycles when she isn't making beautiful resin knife magnets. The New West Knifeworks factory in Victor, Idaho functions more like a workshop than a factory, with skilled artisans involved in each step of knife and knife block making, imbuing the process with their own creative strengths. 
Colorful one-of-a-kind knife magnets made of desert juniper and resin have strong magnets encased within to display knives on a kitchen wall.
The "Crux" one-of-a-kind 8pc chef knife rock block made from black Teton granite, cocobolo, and tiger wood. Pieces like this can be commissioned.
Beginning in 2020, Corey plans on beefing up New West Knifeworks' custom knifemaking capabilities and doubling his Jackson Hole shop's size by adding a gallery component. The new section of the shop will display custom knives, sculptural knife rock blocks, and mixed media knife magnets alongside modern Western paintings by local artist Connor Liljestrom. 
And, as true to his brand as are high-end resin and juniper knife magnets, Corey plans on throwing tomahawks right down the center of his gallery's aisle.
Shop currently available one-of-a-kind knife art.
Learn about commissioning a custom rock block.
See the full G-fusion chef knife line.