Resin Knife Magnets: Mixed Media Kitchen Art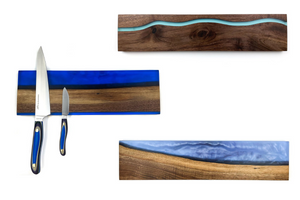 American Made Knife Art.
At New West KnifeWorks we make cutlery that, as the The New York Times summed up, is "as beautiful as it is useful".
When your knives are this stunning, why keep them in a drawer? We've created gorgeous mixed-media knife magnets that not only have them ready for easy use, but also make the perfect frame to show them off.
Our origins at New West KnifeWorks' are rooted in the art show circuits of Jackson Hole. Founder Corey Milligan created interesting ways to display the knives to highlight their beauty, as well as catch the eye of art show judges. 
Over time these pieces have evolved, always continuing to highlight the beauty of the knives while experimenting with the mixed media form.
New West's head of production, Erin Hemmings, took on the "knife display torch" from Corey, and has mastered new methods of making highly functional art. One of our most distinct product lines is our Resin Knife Magnet series. Designed by Erin, the resin magnets are the perfect blend of form and function. Erin uses precision engineering to make our resin magnets beautiful, durable, and a great functional way to keep your favorite kitchen tools at close reach.
The resin magnets are an excellent way to display knives, while keeping the blade clean, dry, and safe on the wood material. Traditional knife magnet bars house the knives directly on metal, which can wear on the blade.
A 360-degree view of the Lewis Lake Magnet
In our Idaho production facility, New West Knife Magnets are currently made by two talented artisans, Liz Peet & Evan Simms.
We chatted with Liz & Evan to learn more about making Resin Knife Magnets.
Liz is an artist by trade, with a passion for making. In addition to our Resin Magnets, she creates gorgeous work as a glassblower. Liz sold her pieces at the Art Fairs in Jackson Hole where she originally met Corey Milligan in New West's early days. A selection of Liz's glass bowls are available at our retail store on the Jackson Hole Town Square.
One of Liz's unique glass pieces in our Jackson Shop
Liz brings her unique eye and creative sensibilities to every medium she works on, which makes her an invaluable member of the New West workshop. She is currently working on building her own shop and making art with neon. "Makers are gonna make," Liz said when we chatted with her about the knife magnets.
She brought her experience with glass projects to the resin magnets. "I love working with transparency and color", she explained. 
Evan makes all kinds of different things. She's involved with metalwork, welding, fabrication and reconditioning, as well as furniture making. 
What both Evan and Liz enjoy about the resin magnet process at New West KnifeWorks is being given creative vision and freedom with each piece. "We get to make what we want, what we think will look interesting, not necessarily just making things we think will sell the best," said Evan. 
That artistic latitude lends itself to the makers working with the natural beauty in the wood. Each piece of raw material is studied. Based on the grain pattern they plan out how they want the piece to look. The production shop stocks a variety of woods including slabs of black walnut, cherry, and a sampling of tropical hardwoods. 
"We look at the wood and decide what we want to highlight. Does it have a live edge? Maybe there's a color change in the wood. We look at the whole slab and plan out how we want to use it," said Liz.
Liz plans out her next piece.
Recently Evan made a piece built around accentuating wormhole patterns in the wood. A piece of wood that would be rejected in most other projects, turned into a stunning natural beauty. Using clear resin, the wormholes draw the eye towards the wood.
Clearwater River Resin Magnet
These makers bring their precision skills and artistic talents to every piece. Each one is handcrafted and sanded to perfection. The makers go through various grits until the piece has a smooth, satin finish.
Resin Magnets in progress. Detailed hand-sanding will follow.
They make everything in the piece, down to the metal backing bars that attach it to the wall. "When you see this come out of the package it looks like a standard item, but we are making every single one of these here," Liz explained. Made in America, right down to the backing bar.
Evan making backing bars in the shop.
Shop our unique collection of Resin Knife Magnets here. Each piece is a one-of-a-kind artwork. 
Have something in mind to coordinate with your kitchen? Custom products can be commissioned from our makers by contacting us at orders@newwestknifeworks.com.