Quinoa Fridge Recipe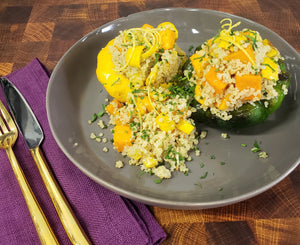 Words and images by Chef Rebekah Abrams.

I first discovered quinoa in the nineties when I was a strict vegetarian and things like quinoa came in bulk bins at the "Health food" co-op.  I knew I loved the taste, but I could never cook it right.   They never give you proper cooking instructions on the bag, and forget about if you bought it in bulk at the Co-Op. I was just a college student in the nineties with no Internet.  Then I learned how to correctly prepare and cook quinoa and I was hooked! Here at Rebekah's Kitchen we offer several menu options with quinoa and every week you can order our veggie quinoa salad. 


Making quinoa at home it the perfect weeknight meal.   Quinoa is super versatile, you can put it in salads and soups as well as use it as a base for things like burgers and meatloaf.  It can be eaten hot or cold and reheating it is just a couple of minutes in the microwave if you're feeling lazy.  Keep a container of cooked quinoa in your fridge and you can have dinner ready in 20 minutes.  My clients always ask me what I eat for dinner, and while yes, sometimes it's candy corn and tequila (see my instagram) often its warm quinoa with olive oil, lemon and parmesan, with whatever vegetables are left over from last night's job. Or, cold over salad greens with queso fresco and Italian vinaigrette. It's quick and it's a great way to use up some of the CSA Box stuff you may have lingering in your produce drawer because you aren't quite sure what to do with it.  We are loving the boom of CSA boxes over the last few years.  We partner with several local farmers to create beautiful farm to table meals and supporting our local farmers is part of our sustainability plan.  We choose local and organic whenever possible to lessen our carbon foot print and packaging waste as well as support local Utah businesses.  A CSA membership is a great way to do the same thing!  It's also a great way to try some new veggies that you have seen at the market but aren't sure how to cook.  Let the internet be your recipe box.

This recipe is versatile so mix and match your favorite veggies. Even though quinoa is a complete protein, you can add grilled chicken, shrimp or fish to make it high protein.  Quinoa quadruples in volume when you cook it so plan accordingly.  You can find "pre-rinsed" quinoa, just check the label, otherwise you should rinse it like rice.  I used the deli knife to cut those amazing last few heirlooms.  Don't be a hero, use the deli knife! The serrated edge stays sharper for much longer than a traditional chef knife so you always have clean cut.  I love the deli knife for slicing bread, cold roasts, peppers and tomatoes.  Anything that could use a little extra bite from the knife blade.   Of course I also used my 7" Teton edge santoku because it is my workhorse knife.  I love a shorter wider blade chef knife because it has better rocking action on the cutting board when you want to chop something quickly.  I also have very small hands so working with a shorter blade is more comfortable and I have less fatigue when I am working on those big jobs.  Finally, I used the 2" mini pairing knife to make quick work of hollowing out those pattypan squash so I could roast and stuff them.  This knife is perfect for those little jobs that you just need help getting small cuts into.  Then, I used a grapefruit spoon to scoop out the seeds and some flesh to make the perfect vessel for my quinoa salad with roasted squash and zucchini.

Here is the  basic recipe:
• 1 cup dry quinoa (this will yield 4 cups cooked)
• 6 cups chopped veggies
• ½ cup lemon dill vinaigrette
• Lemon Dill Vinaigrette
• ¼ c fresh lemon juice
• 2t Dijon
• 1t honey
• 1/3 c fresh dill
• ½ t kosher salt
• 1 ½ c good extra virgin olive oil ( rule of thumb: always buy olive oil in dark containers so it doesn't get too much light exposure)
• pinch fresh ground pepper

How to cook quinoa:
Combine quinoa and 2 cups of water in a heavy pot.  Cover and bring to a boil, then lower the heat to a simmer and cook, covered, 15 min.  Turn heat off and let rest.  spread cooked quinoa on a sheet pan and let cool completely.  Fluff with a fork and store in the fridge in an airtight container until you are ready to use.
Here are a few ideas for the 6 cups of veggies:
Toss the quinoa in ½ to 1 cup of the dressing (or your favorite salad dressing!) before you use it any of the following ways:
1. Roasted butternut squash: peel and cube butternut squash into ½" cubes, toss in olive oil and spread out on a parchment lined sheet pan.  Sprinkle with salt and pepper and roast at 400 degrees for 20-30 minutes until tender.
2. Grilled zucchini: cut lengthwise and toss with olive oil, salt and pepper and grill.  Cool and chop.
3. Hollow out a patty pan squash, and coat with olive oil, sprinkle with salt and pepper and roast/bake on a parchment lined sheet pan, cut side up for 10-20 min at 425 until a fork easily pierces the skin. Then fill with quinoa salad and top with your favorite cheese and roast/bake another 10 min until the cheese is bubbly and lovely brown.  You can also do this with the bulb end of the butternut squash.  Just roast/bake the bulb cut side down for 20-30 min until you can easily pierce it with a fork and then stuff. 
• diced peppers
• chopped kale
• chopped carrots
• diced spring onions
• add cheese, always add cheese!
All of these combos can be eaten warm or cold!

Rebekah Abrams is the owner and executive chef at Rebekah's Kitchen in Park City, UT.  When she isn't preparing multi course meals for clients in their homes or delivering ready to heat and serve meals in sustainable glass containers with locally sourced ingredients, you can find her skiing the powder or carving turns on Deer Valley's famous corduroy.