New West KnifeWorks Blends the Beauty of the Teton Mountain Range with Their High Performance Chef Knives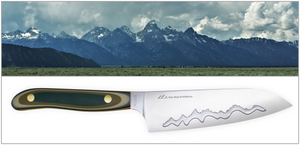 Introducing The Teton Edge Santoku, an all-purpose chef knife with an image the Teton Mountain Range etched onto the blade, improving both beauty and function.
April 19, 2018

Loved by top magazine editors, renowned chefs, and avid home cooks, New West KnifeWorks high performance, boldly beautiful knives once again push the limits of form and function in kitchen cutlery. This April, New West KnifeWorks is proud to release the Teton Edge Santoku, a Japanese-style general purpose chef knife, in which the typical scalloped or kullen grind surface is replaced by a stylized etch of the Grand Teton Mountain range - an homage to their Jackson, WY hometown. This concept is truly unique in the history of kitchen cutlery.

After three years of careful development by the visionary team of New West KnifeWorks founder, Corey Milligan, and Production Manager, Erin Hemmings, a method was designed for engraving the Teton Mountain Range graphic into the knife blade that is repeatable, food safe, and fully maintains the strength of the steel. Not only does this new etching process give greater beauty and flexibility to the blade design, machine grinding, as is done with traditional Santoku dimple grinds, can cause heat build up with the potential to damage the precision heat treatment vital to high performance steel's optimal durability and edge holding.

Additionally, the Teton Edge Santoku smoothly glides through food with less sticking to the knife than a traditional Santoku. In tests, the New West KnifeWorks team - which includes active home cooks and talented chefs - found that the Teton Edge Santoku performed better versus a traditional kullen grind Santoku in releasing thinly sliced, wet, crisp foods that often adhere to the knife blade, such as cucumbers, potatoes, and zucchini.

This unique example of utilitarian knife art is made with the same high performance materials as New West Knifeworks entire line of kitchen knives - the world's top grade powder-metal knife steel, S35VN - produced in upstate New York, and high-pressure, aerospace grade fiberglass composite material made in Ohio. With an eye for design, beauty, and utility, these leading edge, American-made materials are brought together in harmony to make the most incredible kitchen knives available, right here in Jackson, WY - home of the nation's most striking mountains, The Teton Mountain Range.