Madame President: Welcome Jessica Milligan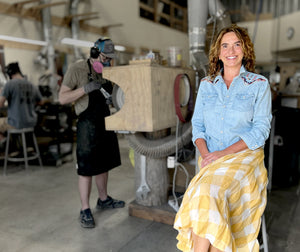 As of June 1, 2022, Jessica Milligan has joined New West KnifeWorks as President, bringing outstanding leadership talents from her previous roles as VP, Chief of Products, Sales & Services at Jackson Hole Mountain Resort, and Retail Regional Manager at Patagonia. Her arrival closely follows a quadrupling of NWK workforce, and a doubling of sales and production, so her business acumen and organizational intelligence are most welcome in this growing organization.

Jessica describes her management style as collaborative, and she relishes working with people, helping them identify priorities and organize procedures that work for them, as well as for the company. These values fit perfectly with the NWKW culture, where it is understood that personal priorities matter as much as production metrics. Be sure, NWKW employees value meaningful work, but a schedule that flexes around their personal lives and seasonal recreations –now that is something special. Jessica will continue to make it a priority for NWKW employees to have time for their families, hobbies, and health, all while working in an environment that celebrates them as individuals. 
Jessica's husband, Corey Milligan, founded New West KnifeWorks, so she has been close to the venture since its inception.  The couple has raised 3 children while pursuing careers and building a knife empire. With a keen brain for invention, ingenuity and design, for 25 years –Corey has overseen the development, production and sale of countless knives. But as the business has grown, Corey recognized the need for organizational acumen to complement creativity and knife-making craftsmanship. Luckily, he had to look no further than across the dinner table. His life partner and wife Jessica Milligan has been a confidante and collaborator since the beginning.
With Jessica at the helm, Corey will be able to refocus his efforts on the creative end of production and development —he's not retiring, instead you can find him in the factory melding minds with engineers, knife makers, and artists always working to keep us on the cutting edge. 


(New West KnifeWorks Production Team)

New West KnifeWorks credits its growth in part to the fact that we have the best customers, loads of glowing national press, boat loads of grit, and a firm commitment to making the finest knives in the world. And now, we have Jessica Milligan! Next stop … world domination!