Lazy Brunch: Farmer's Market Frittata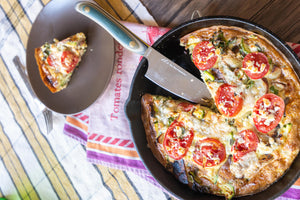 Words and Images by Lily Krass
Oh, the beauty of a lazy Saturday morning. On days where I don't much feel like setting my alarm for an early adventure in the mountains, I like to roll out of bed, stroll to the Saturday market and search for the best fresh produce to throw into a big, cheesy frittata. 

(The 5" Chopper, with huckleberry handle)
Late summer, when tomatoes are best, I sometimes keep the frittata more simple, stirring in onions, cheese, and bacon, and topping the whole thing with fat slices of sweet tomatoes. As we near fall, when root veggies are starting to really get their time in the spotlight, I'll lean on potatoes, sweet potatoes, and kale. You could pick a theme and try to stick to it, but my best advice is to throw it all in and enjoy whatever comes out of the oven. As a general rule of thumb, I like to start by sauteing anything that needs to be sauteed, then pour my egg mixture in along with cheese and tomatoes. Anything super delicate, like arugula, can be tossed on after you pull it out of the oven. 

When I know I've got a lot of veggies to chop up, I always reach for my 5" Chopper. It's sleek, capable, and makes a daunting pile of produce feel like a fun challenge. It's so versatile, whether I'm mincing garlic or chopping mushrooms; if I had to choose one knife to use for the rest of my life, it would hands down be the 5" Chopper. 
Of course, this recipe changes all the time depending on what looks good, but here's one packed with my favorite ingredients. 
Ingredients:
2 small red potatoes, thinly sliced

1 tsp. olive oil

1 tsp. dried rosemary

2 tsp. salt

6 oz. bacon, diced (optional)

1 clove garlic. Minced

½ yellow onion, chopped

½ cup of mushrooms, chopped

½ cup zucchini, diced

½ cup kale or spinach, chopped

8 eggs

1/4 cup sharp cheddar cheese, shredded

2 tomatoes, sliced

¼ cup goat cheese
Directions:
1. Preheat the oven to 400°F.

2. Place potatoes on baking sheet and sprinkle with olive oil, rosemary, and 1 teaspoon salt

3. Bake potatoes for 15 minutes, until brown around the edges. Leave the oven on.

4. Heat a 10-inch cast iron pan on the stove and add bacon (if using). If omitting bacon, add a splash of olive oil to the pan to replace the bacon fat.

5. Add garlic, onions, mushrooms, and zucchini and cook until onions are translucent. 

6. Add roasted potatoes to the frying pan along with kale or spinach. 

7. Crack eggs into a bowl and whisk until smooth. Add ½ tsp. salt and cheddar cheese.

8. Pour the eggs into the pan and tilt the pan to let eggs start to cook evenly.

9. Lay diced tomatoes over the eggs and sprinkle with goat cheese.

10. Put the frittata into the oven and cook for 8-10 minutes. Broil on high for the last minute if you want a crispy or browned top.

11. Let cool for 10 minutes and serve.