It's Grilling Season: Coffee-Rubbed Hanger Steak with Chimichurri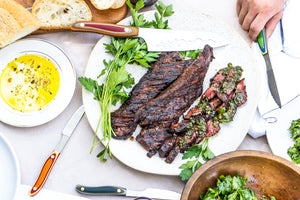 Words, Photos, and Recipe by Alisha Sommer
It's hard to believe that it's already spring. Bring on the outdoor activities, dinners made with fresh ingredients, the melty ice cream cones (have you made strawberry ice cream yet?), and pool parties.  Basically, you should be breaking out the grill soon.

One of our favorite types of steak for the grill is hanger steak. If you're not yet familiar with this particular cut, listen in. Strips, rib-eyes, T-bones – a butcher can cut multiples from a single cow. However, there is only one hanger steak per cow. That's right, just one per cow, making it one of the rarer cuts of meat on the market. It has the flavor like a rib-eye with the tenderness of a filet mignon and will stand up to a little overcooking if you're a novice on the grill like myself. These days, you can purchase hanger steak online and have it shipped to your home, but I recommend checking in with your trusted butcher at the farmer's market.

Another reason I tend to gravitate toward hanger steak is that because of its thin ribbons of marbling, I believe it takes on flavors very well. That's why I wanted to share this recipe for Coffee-Rubbed Hanger Steak with Chimichurri Sauce. The steaks are rubbed down with a spice mixture for 30 minutes before they hit the grill. The drizzle of chimichurri over top tones down the heat from the chili powder. A salad of fresh cilantro, parsley, and chives, balances out the dish. If you don't dig spice, nix the spice blend and season the steaks with salt and pepper. You will not be disappointed.

To prepare this meal, I used the G-fusion 7" Teton Edge Santoku. What I love about this knife is its versatility. You can chop the herbs, slice the shallots, and cut the steak – all with the same knife. Remember: summertime is about being outside, not at the kitchen sink! I consider it one of the best investments for the kitchen for cooks of all levels. My favorite thing about the G-Fusion steak knives – which is true for all of the knives in the G-Fusion collection – is how light they are in your hand yet they are incredibly powerful. What differentiates these knives from what I've typically kept in the drawer is their serrated edge. These thin, sharp knives glide through everything.

Coffee-Rubbed Hanger Steak with Chimichurri Sauce
INGREDIENTS
Chimichurri Sauce
•    1/4 cup balsamic vinegar
•    1/3 cup quality extra-virgin olive oil
•    3 garlic cloves
•    1 cup flat-leaf parsley, stems removed
•    1/2 teaspoon cumin
•    Kosher salt to taste
•    Freshly ground pepper
Steak
•    1 tablespoon finely ground dark-roast coffee beans
•    1 tablespoon chile powder
•    1 tablespoon dark brown sugar
•    1/2 tablespoon smoked paprika
•    1/2 teaspoon ground cumin
•    1/2 tablespoon kosher salt
•    2 lbs of hanger steak
Herb Salad
•    1 1/2 cups cilantro leaves
•    1 cup flat-leaf parsley leaves
•    1/2 cup snipped chives
•    1 small shallot, halved lengthwise and thinly sliced crosswise
•    Kosher salt
•    Freshly ground pepper
INSTRUCTIONS
The Chimichurri
1.    In your food processor, combine all ingredients and blend on low until combined, not blended.
The  Steak
1.    Combine ground coffee, chile powder, brown sugar, paprika, cumin, and salt. Pat the steaks all over with the coffee-chile rub and let stand at room temperature for 30 minutes.
2.    Light a grill and oil the grates or pan. Grill the steaks over high heat, cooking 2-4 minutes on each side, or until it reaches desired internal temperature.
The Salad
1.    In a large bowl, combine the cilantro, parsley, chives and shallot. Add 3 tablespoons of the chimichurri, and toss to coat the herbs.
To serve, slice the steaks thinly and arrange on a large dish. Drizzle some of the chimichurri over the meat. Add the herb salad on the side.
About the Writer & Photographer
Hi.
I'm Alisha Sommer, Bay Area Freelance Writer & Photographer. I have a gift for holding sacred space, for deep listening, and for seeing the ordinary in extraordinary ways.
Really, I'm just a storyteller.
Sommersalt is where I talk about my essentials for living: food, wine, and words. If you want to know how to work with me professionally (photos, writing, anything fun and creative), you can visit www.alishasommer.com.