The Return of Berry Season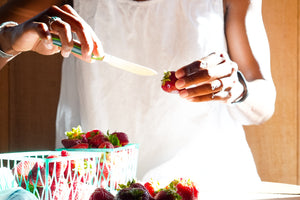 Words and Photos by Alisha Sommer
Someone once said that the strawberries don't get sweet until May, and they're right. May is the month that signals the arrival of summer with the scents of gardenia and jasmine and rose floating on the wind. It's the month when temperatures begin to creep up, the sky stays clear, and the California sun is blindingly bright. But, most importantly, it's the return of berry season.

As a newcomer to the valley – to all of California, really – one of my favorite things to do is seek out local, family-owned farms. Not only do we value supporting the community, but since migrating from the Midwest, I've learned that the lettuce here is crispier, the tomatoes are redder, and the figs are sweeter. California is blessed with the best of the best for locally-grown produce, and I love finding new-to-me gems around the valley.
There is nothing better than biting into a juicy sweet strawberry, and you can find the ripest, sweetest strawberries at a little farm stand in northern Napa. If you're visiting the New West Knife Works shop in Saint Helena, head south on Silverado Trail and follow it along until just before Trancas Street. There, you'll find Saetern Family Farm.

The stand is small and white, with hand-painted strawberries on the fronts and sides. All winter, the tiny window sat empty. And all winter, I wondered if the strawberries would be worth it. With the return of summer, it was now time for me to find out. As I walked up to the stand, a woman pulled down her mask to pop one into her mouth, unable to resist their honeyed smell. "Oh, they're so sweet," she said as she walked by me. I bought a flat and took them back to the car. We could barely keep our hands off of them. I immediately thought of two things: 1. To really appreciate them, they should be eaten plain with just a little dusting of sugar. 2. I should make homemade strawberry ice cream.  
Below, you'll find the recipe for Melissa Clark's strawberry ice cream. The most time-consuming part of making the ice cream base is hulling the strawberries. However, with the right knife, it's a breeze. I recommend the 3" G-Fusion Paring Knife. Hold the strawberry in your left hand and place the paring knife in your right hand, holding the blade just below the handle. Place the tip of the knife at an angle next to the stem, then turn the strawberry to guide the knife around the stem, keeping the blade angled towards the core of the strawberry. Repeat this until you've hulled the pound of strawberries for the ice cream base. But wait! Don't toss the hulls. Set them aside and make a strawberry simple syrup for drizzling over your ice cream, making homemade strawberry sodas, or for crafting strawberry-flavored cocktails!
Strawberry Basil Ice Cream via The Only Ice Cream Recipe You'll Ever Need by Melissa Clark
INGREDIENTS
• 1lb fresh strawberries
• 5 basil leaves
• 3 tablespoons sugar
• ½ teaspoon lemon juice
• 1 pinch of salt
• 2 cups heavy cream
• ⅔ cup sugar
• ⅛ teaspoon fine sea salt
• 6 large egg yolks
DIRECTIONS
In a blender or food processor, purée strawberries, basil leaves, 3 tablespoons of sugar, 1/2 teaspoon lemon juice a pinch of salt. Taste and add more sugar or lemon juice if necessary. Purée should be on the sweet side, with some underlying tartness.

In a small pot, simmer heavy cream, milk, sugar, and salt until sugar completely dissolves, about 5 minutes. Remove pot from heat. In a separate bowl, whisk yolks.
Whisking constantly, slowly whisk about a third of the hot cream into the yolks, then whisk the yolk mixture back into the pot with the cream. Return pot to medium-low heat and gently cook until the mixture is thick enough to coat the back of a spoon (about 170 degrees on an instant-read thermometer).

Strain through a fine-mesh sieve into a bowl. Stir in strawberry purée. Cool mixture to room temperature. Cover and chill for at least 4 hours or overnight. Churn in an ice cream machine according to manufacturers' instructions. Serve directly from the machine for soft serve, or store in the freezer until needed.

Strawberry Simple Syrup
INGREDIENTS
• Leftover strawberry flesh and cores from 1lb of strawberries
• 1 cup of sugar
• 1 cup of water

DIRECTIONS
Add the strawberry bits, sugar, and water to a small saucepan over medium heat. Stir until sugar dissolves.
Use a fine sieve remove solids and strain syrup into a heat-safe bowl. Let cool, then pour into a glass jar and seal tightly with a lid. Store in refrigerator for up to one month.
About the Writer & Photographer
Hi.
I'm Alisha Sommer, Bay Area Freelance Writer & Photographer. I have a gift for holding sacred space, for deep listening, and for seeing the ordinary in extraordinary ways.
Really, I'm just a storyteller.
Sommersalt is where I talk about my essentials for living: food, wine, and words. If you want to know how to work with me professionally (photos, writing, anything fun and creative), you can visit www.alishasommer.com.