Introducing the Arete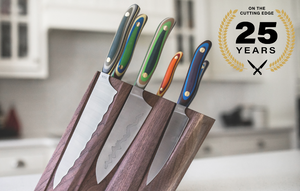 The culmination of 25 years of functional art. 
By Michael Milligan
William Morris famously said: "
Have nothing in your houses that you do not know to be useful or believe to be beautiful." At New West KnifeWorks, over the past 25 years, we have sought to do both as much as possible. 

To kick off our 25th anniversary celebration we are excited to introduce the perfect vessel for your chef knives– the Arete Knife Block. Many of our fans have built their own unique collections over the years and this versatile, magnetic piece provides the perfect setting to show off your knives and keep them conveniently ready for use. What's extra special about the Arete is that the magnetic nooks are designed to display a variety of shapes, sizes and numbers of knives– and create a signature accent to the kitchen whether it houses three or seven knives.

The word "arete" is parlance among mountain climbers for a narrow, sharp ridge which separates two valleys, as such, this design is our homage to the Teton peaks which tower around our workshop and factory from which we draw so much inspiration. Also, there is the original meaning of the word, its etymological roots reaching back to Ancient Greece, which refers to the idea of excellence, of something, or someone, that perfectly embodies its purpose. So, in our 25th year, we offer this special piece to our fans and customers, an emblem of the purpose we continue to strive toward– which is to create fine functional art that brings joy to everyday life. 
We hope those of you who have patiently put together your own knife kits over the years, whose collections don't quite fit the mold of our curated knife blocks, will find the unique nooks and crags of the Arete the perfect home for your knives.


American hardwoods are precision machined and meticulously hand-finished at diverse angles creating an infinite variety of perspectives as you move around the kitchen. That's how we feel as we hike, bike and drive around the Tetons, every angle is simultaneously unique and eternal.  
That's the inspiration behind our first 25 years and what calls us forward as we look to the next 25. 
Shop the our curated Arete Block here, or create your own collection - Arete without knives here.