How to Maintain Your Knives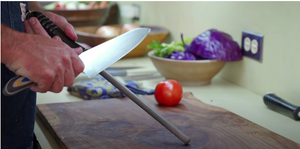 New West KnifeWorks knives are constructed of the most durable possible materials and will give a lifetime of service as long as you follow a few simple practices.
- Don't put your knife in the dishwasher. Avoid soaking in water for extended periods of time. Wash with hot soap and water. Towel dry.
- Cut only on wooden or softer plastic cutting boards. Granite, glass, stone, corian, metal, ceramic or any other very hard material should never be used. They will quickly dull the knife and possibly chip or otherwise permanently damage the blade.
- The steel is not suitable for cutting ice, frozen items or bones. These very hard items can chip the blades.
- Our knives have a high enough corrosion resistance to warrant a stainless steel rating. The more carbon there is in a knife, the better it will hold an edge, but the less it will resist stain (the beginnings of rust). Because it holds an incredible edge, your knife can stain if left exposed to corrosives. It should be washed and dried after every use. If a stain appears, scrub with soap, water, and a mildly abrasive pad (the abrasive side of a two-sided sponge, green Scotch pad, or SOS pad).
- Use food safe practices by washing the knife before and after storage in the leather sheath.
Keep them sharp!
Knife Sharpening Tips with Corey Milligan
The amount a knife needs to be sharpened is totally dependent on how often the knife is used, but one sharpen per month is usually plenty for the home chef.
Honing steel, ceramic steel and sharpening stones are all good tools to use for keeping you knife razor sharp. Ceramic sharpening rods even work for our wave serration knives!
The ceramic sharpening rods shown in the video are available for purchase here
Backed by a lifetime warranty, your New West KnifeWorks knife may be returned to us at anytime for a "full tune-up" (re-polishing and re-sharpening) free of charge. 
How to Send Your Knife in for a Tune-Up