Get To Know Your Farmer: Carter Country Meats' Famous Ranch Burger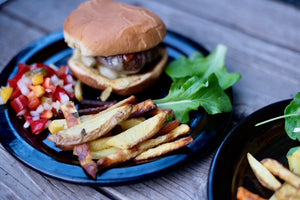 Words & Photos by Lily Krass
Whether you're five years old or 50, there's nothing quite like biting into a juicy burger at a summer barbecue. 
If you've ever tried Carter Country Meat—be it a burger, dry-aged steak, or melt-in-your-mouth brisket (lucky you!)—you're probably already aware of how unique, tender, and superior the flavor is. Grass-fed, grass-finished, and hormone- and antibiotic-free; Carter Country Meats checks all those boxes, but for these third generation Wyoming ranchers, it's about more than just words on a label. Connecting to the land and honoring the life cycle of their animals is a way of life for the Carter family. You'll be pressed to find a ranch that cares as much about its cattle as the Carter Ranch.
(Photo courtesy of Carter Ranch)
Cattle on the Carter Ranch spend their entire lives roaming the nutrient-rich land along the western slope of the Big Horns, part one of the signature Carter Double-Aged process. "We're constantly striving to create a more honest relationship with our food and the land that nourishes its growth," says RC Carter, who runs the ranch with his wife Annia and their three boys. "Our goal is to create a new food model that incorporates our regenerative land and ranching practices with sustainable delivery options to deliver the highest quality beef directly to your doorstep." Dry-aging primal cuts is the second part of the Double-Aged process, contributing to tender and flavorful beef that proves mature animals don't have to taste tough and gamey. "A lot of people try our meat and are blown away by all these flavors they've never tasted before," says Carter. "That's because there are so many nutrients in it from the years of the animal walking around and harvesting different grasses over its whole life. This is what it should taste like."
Quality and sustainability are two things New West KnifeWorks and Carter Country Meats have in common, a commitment to "just making it awesome," as Corey Milligan says. This summer, Carter Country and New West are working together to raise money for the Wyoming Hunger Initiative, a nonprofit working to end child hunger in Wyoming. "One of New West KnifeWorks' core values is to love thy neighbor," says Milligan. "So when the First Lady of Wyoming reached out to us about supporting this initiative we felt it was a great opportunity to use our brand to bring awareness. Both to the Wyoming Hunger Initiative and to sustainable farming like Carter Ranch."
When it comes to preparing the meat, Carter says many people have been cooking grass-fed burgers all wrong. "When you get the grill hot and it's flaming and you've got grease dripping off, you're not maximizing the potential of the burger. The flavor is in the fat—that's why our beef is so great—so you have to cook it like a steak." 
(Prepping "Pickle Pico de Gallo" with New West's 9" Chef Knife)


Carter shares the ranch's famous method for whipping up the tastiest burger; a patty cooked low and slow, a big scoop of pickle pico de gallo, a thick slice of provolone cheese, and a buttered up potato bun to wrap it all up. 
Learning how to cook a great burger is something everyone can relate to, and while this burger takes an extra half hour on the grill, the flavor that comes out of it is truly second to none. "When you cook it right, you're taking the cheapest cut of meat and making it as good as a rib eye," says Carter. "And what's more American than a great, juicy burger?"
Recipe: Carter Country Meats' Famous Ranch Burger

Makes four 1/2-pound burgers

Ingredients
Burger
2 lbs. Carter Country Ground Beef
Kinder's Seasoning (Woodfired Garlic or Buttery Steakhouse) 
Pickle Pico de Gallo

1 red bell pepper, chopped into 1/4-inch pieces
1 yellow bell pepper, chopped into 1/4-inch pieces
1/2 Walla Walla onion, chopped into 1/4-inch pieces
1 cup cherry tomatoes, quartered
1 dill pickle, chopped into 1/4-inch pieces
1 clove garlic, minced 
Directions
1. Set your Traeger grill (or any other pellet grill) to smoke mode and preheat to 190°F, preferably with Apple Wood pellets. If you don't have a pellet grill, just keep your grill at a low heat and cook it slowly to limit the fat from rendering.

2. Form 1/2-pound patties with the ground beef, seasoning the outside liberally with Kinder's Seasoning. Place them on the grill and cook for 45 minutes, flipping as needed. If you prefer a smaller, 1/4 or 1/3-pound patty, the burgers will cook faster. 

3. While the burgers are cooking, mix all the ingredients for the Pickle Pico de Gallo.

4. About 5 minutes before the burgers are done, add 1/4 cup pico de gallo on top of each burger, followed by a slice of provolone cheese. 

5. Once the cheese has melted and around the pico de gallo, slide each patty into a buttered potato bun. 
Purchase raffle tickets here to help fight food insecurity and be entered to win prizes from New West Knifeworks and Carter Country Meats! 
Featured Knife: New West Knifeworks G-Fusion 9" Chef
About the Writer & Photographer
Lily Krass is a freelance storyteller and recipe developer based in Jackson, Wyoming. In addition to writing for ski and outdoor publications like SKI, Powder, and Teton Gravity Research, she also co-authored a cookbook: Beyond Skid: A Cookbook For Ski Bums, a collection of recipes inspired by life in a mountain town.