Breakfast Cookies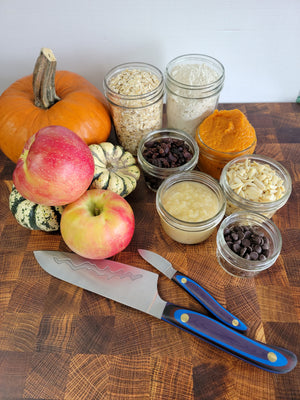 Story and photos by Chef Rebekah Abrams.
This recipe was born from my love of cookies.  And it collided with my need for a quick breakfast while running out the door.  When I was starting out as a chef I was also vegetarian and still flirting with being vegan. This recipe covers both-unless you don't eat honey as a vegan which is another conversation for another time. I was also a competitive athlete so I was very careful about what I ate. 


Since my love of baking cookies after-school is really the foundation for my love of cooking, it only seemed right that I come up with something to bake and regularly that I could also EAT regularly without guilt.  And, especially if I eat every single one of those cookies in 24 hours (which I may or may not have done more than once).  I also feel strongly about the versatility of a recipe. 

One should be able to use a recipe in more than one way, otherwise it takes up too much space for not enough return.  I've tried so many different versions of this recipe.  The most important part-as will all recipes-is the ratio.  Make sure the dry and the wet add up and you are pretty good to go.  The best part of this recipe is that all you need is 2 bowls, a spoon and a sharp knife!  I've given you the fall version of this recipe, one with pumpkin and one with apples.  Both are abundant at the farmers market right now and both require the use of my trusty 7" Teton santoku chef knife as well as my 2" mini pairing knife.  The 7" Teton Santoku is the knife I reach for the most so it makes sense I would use it here. 


It's short enough to work on chopping apples and long enough to cut through a pie pumpkin to roast it and make pumpkin puree.  The mini pairing is great for coring the apples so you don't waste any of the delicious fruit while it is in peak season.  Now, I am not opposed to using canned pumpkin instead of roasting your own.  You can find canned pumpkin year-round now so go for it!  And if you have any leftover just freeze it and use it for your next round of cookies…or give it to your favorite dog like I do!


Basic Recipe makes 24 cookies:
• 1 cup oat flour
• 1 cup gluten free flour (I like Bob's Red Mill because it is nut free) or regular all purpose flour
• 2 cups rolled oats
• 1 teaspoon baking soda
• ½ teaspoon ground ginger
• ¼ teaspoon ground nutmeg
• ¼ teaspoon cinnamon
• 2/3 cup honey
• 1 cup apple sauce
• ½ cup mashed banana or pumpkin puree
• 1 teaspoon vanilla extract or ½ teaspoon almond extract
• 1 cup small dices apples or ½ cup chopped dried fruit
• 1 cup chopped nuts or chocolate chips (or a combo!)


1. Mix the wet ingredients in one bowl and the dry ingredients in a second bowl, saving the chopped fruit, chocolate chips and nuts until the end to mix in last.

2. Stir the dry mixture into the wet mixture and stir until there are no more dry looking spots. 
3. Then fold in the fruit, chocolate and/or nuts.  Let the mixture rest for 15 min so the flours and oat get hydrated. 
4. Drop by 2 tablespoon scoops onto a cookie sheet lined with parchment (always line with parchment for cookies!). 
5. These cookies won't spread because you are using honey as the sweetener so if you want a flat cookie gently press the tops down with the bottom of a measuring cup. 
6. I like to keep them nice and round so they look like scoops of ice cream.
7. Bake at 375˚ for 10-12 min until firm to the touch but still soft. Let cool completely on the pan.  
Here are a few other suggestions:
Pumpkin puree, pumpkin pie spice, pumpkin seeds, chocolate chips (Chef's choice)
Dried cherries, slivered almonds, chocolate chips, almond extract, nutmeg 
Dried Mangos and pistachios, cardamom 
Dried cranberries, walnuts and white chocolate chips
Chopped peaches and pecans with a sprinkle of maple sugar on top before baking
Enjoy!  Rebekah
Visit 
www.chefrebekah.com
for more!