Your Guide to Sharp Father's Day Gifting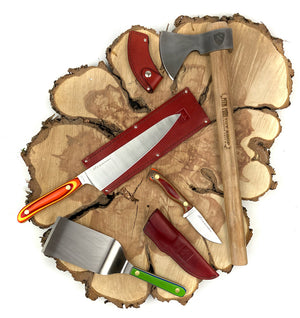 Got a sharp Dad? Give him a gift to match.
Looking for a Father's Day gift that will last a lifetime? Backed with a quality guarantee and not a lame necktie? We've got you covered.
Here's our selection of perfectly curated gifts for the Big Guy.
Father's Day Gift Set
What better gift for Dad than our Father's Day Gift Set? Specially selected for Dad to fit all his needs. Inspire him to get outside, and get in the kitchen! Set includes our S7 Tomahawk, 9" Chef Knife, Outfitter Knife and Turner Spatula.
Glory Folder Pocket Knife
It's like grandpa always said, "never leave the house without a knife and a wristwatch." Cell phones may have replaced the wristwatch in the need to tell time, but the every day uses for a knife remain essential. Open boxes, cut twine, pick a splinter from your hand -- do it all with style with our Glory Folder every day carry knife.
Steak Knives
Grilling up a summer steak with Pops? Make sure he's got the perfect knife to savor that delicious meat candy. No more shredding steak with the set of steak knives from his youth.
Picked in Jack Carr's Father's Day Gift Guide with the fitting description of: "New West KnifeWorks Steak Knives, that's all I need to say."
Made in a full line of G-Fusion colors or Desert Ironwood, these are as handsome as they are handy (just like Dad).
 9" Chef Knife

Make Dad a master of his cutting board domain with our 9" Chef Knife. Bold and powerful. Versatile enough to be the go-to knife in the arsenal.
Outfitter Hunting Knife

Got the kind of Dad that likes to hunt his own dinner? Make sure he is well equipped for the task with our Outfitter hunting knife. Available in colorful G-Fusion, classic Desert Ironwood, or stunning semi-custom exotic handles.
S7 Throwing Tomahawk
If your Dad doesn't have a tomahawk throwing range in his backyard, this must be rectified. Give the gift that will entertain him and his buddies for hours on end. Featured in New York Times best selling Author & Navy Seal Jack Carr's Father's Day Gift Guide, these are the ultimate in sharp toy fun.
Fish and Fillet Knife Set
The perfect gift for the fishy Dad, this knife set pairs our new nimble Bird & Trout Knife with our popular flexible blade Fillet Knife. The Bird & Trout does excellent work on field dressing small game, while the Fillet Knife will prep fish for tasty eats either in the field or in the kitchen.