Women of New West
March 02, 2023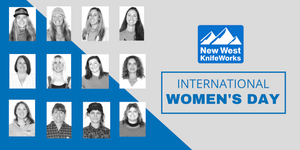 New West KnifeWorks joins the world in celebrating International Women's Day, March 8, 2023.

We honor women who forge change through innovation and leadership. They make great things happen here and everywhere. New West is fortunate to have skilled, curious and brilliant women in each department, from the factory floor to the president's desk. We are delighted to introduce some of the women who keep us on the cutting edge! From artisan custom object creators who wield power tools, to the ultra sharp women who keep our books balanced and our bills paid. We celebrate their visionary leadership as they direct us toward a brighter, more sustainable future. 


New West KnifeWorks asked these mavens of manufacturing, marketing, and management; what their preferred kitchen tool was. And while we are grateful to no longer live in a society that believes a woman's place is in the kitchen, this group knows their way around the spice rack. 

Check out their favorite blades and shop the Women's Day Collection HERE.
Interested in being part of our team? Check out employment opportunities HERE.