2021 Blade Show Report: Exhibition & Inspiration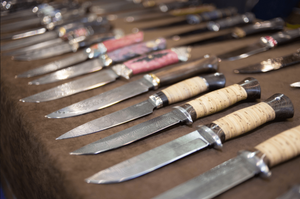 Written by C. Keefe

(Above photo: BladeShow.com)
"How would you describe Blade Show?" I asked.
"Basically the highest density of pocket knives, in one place…ever!" New West knife maker Jonathan Wessel, explained. "Well, you might have to look that up, but I bet it was."
Blade Show, an annual event hosted by BLADE magazine, celebrated its 40th anniversary in June of 2021. After suspending the show in 2020, the "Largest Knife Show in the World" was back in full force. This event hosts the most enthusiastic knife makers and collectors from around the globe. No doubt about it - a crew from New West KnifeWorks was in attendance. Four of our knife experts traveled to steamy Atlanta to seek out the best of the best: our lead buyer, our two custom knife makers, and our pocket knife maker. The team was there with a few boxes to check off. 
First they bought knives -- a veritable bounty of blades. The cache of newly acquired, handmade, high quality knives from top bladesmiths can be found in our retail display cases in Jackson, Park City, Napa Valley, and Teton Valley and all in one place online.

(An exemplary lockback produced by Murray Sterling, Mt. Airy, NC.)
The second task was for our talented custom knife maker Jack Rellstab to demonstrate his skills to the ABS (American Bladesmith Society). The ABS is an organization of knife makers who promote the techniques of forging steel blades, as opposed to making them via the stock-removal method. The ABS has a system of ratings designating whether a member is an Apprentice, a Journeyman, or a Master Smith. Rellstab achieved a Journeyman Certification at the prodigious age of 19 by demonstrating that his hand forged blades were resilient, sharp as hell, well balanced, and beautiful. You can follow us on Instagram for some behind-the-scenes hand-forged knife beauty. @nwknifeworks
(Rellstab's Journeyman knives and certificate)
Lastly our crew returned with incalculable inspiration and ideas. The greatest prize of this expedition is the palpable enthusiasm and renewed dedication of our bladesmiths. Jonathan and Jack both described being starstruck after meeting Kyle Royer.
(From left to right, Rellstab, Royer, Wessel)
"I mean, Royer is a Master Bladesmith. There's only like 120 Master Bladesmiths in the whole world!" Jonathan exclaimed, still reveling from the encounter. He went on, "look, it's rare to rub elbows with such a large group of your peers, especially when your passion is knives, it's a niche field."
Whether you are a knife collector, artist, chef, wilderness explorer, or someone who appreciates everyday art and excellent craftsmanship, our Blade Show Collection is worth a gander.