The Art of Plating
January 05, 2021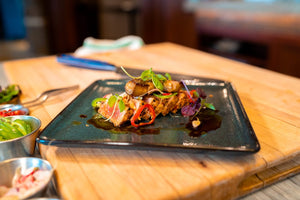 Follow chef Michael Rollinson of the Westbank Grill in Jackson Hole, Wyoming, as he shares some quick and easy pro tips to modern food plating.
In this video Chef Rolly is working with "Tuna Foie". A dish that combines foie gras (pronounced "fwah grah", fattened duck or goose liver), Ahi Tuna coated with Togarashi (a Japanese chili spice), and a sweet Ponzu sauce.
Tips & Tricks
- For seared meats: try cutting 1/8-1/4" thick slices to show the bright interior
- Mix textures and flavors: add crispy, crunchy garnishes to softer foods, add acidic or refreshing flavors to fatty foods
- Use odd numbers on the plate
- Saucing: use a spoon held with a loose wrist, let it fall naturally, sauce the main dish AND around the plate for decorative appeal
- Microgreens, herbs and garnishes add texture, color, and hide imperfections - It's art! Have fun, there aren't any rules!
Chef Rollinson is using his go-to knife, the American made 9" Chef Knife from New West KnifeWorks.
Shop Featured Knife: The 9" Chef Knife