Stuffed Mushrooms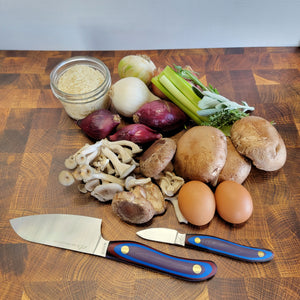 Thanksgiving stuffed mushrooms. By Chef Rebekah Abrams
Stuffing is one of my favorite parts of Thanksgiving.  The smells and the flavors of that holiday are so comforting.  Of course it's my favorite holiday, probably because it's all about the food.  But you don't have to wait until November to have these mushrooms, we serve them year-round, and they are definitely in our top 5 most popular appetizers.  As with so many things we make at Rebekah's Kitchen, they are versatile; They can be made with any kind of meat OR completely vegetarian.  They are already dairy-free, but you can easily sub cooked quinoa for the panko breadcrumbs to make they gluten free too!  


Since we were chopping and dicing, I thought I would take the 5" chopper for a spin.   What a fun knife!  First of all, I love how small it is!  I know I've said it before, but I have tiny hands.  This knife was fun to use because of the short blade but it has enough rocking motion to really work through the mushrooms.  We also had fun chopping the celery and onions with this one.  It would be a great starter chopping knife for the junior chef in your house.  Thanksgiving is a great time to get the kids helping in the kitchen and not just with the dishes!  BTW, everyone does dishes at Rebekah's Kitchen, and the dishwasher always gets to choose the music.  
We usually make these with smaller mushrooms so they are just one or two bites, but they would make a nice side dish if you want to make larger ones.  At Thanksgiving I make a double batch of the stuffing and knock 2 things off my list at once: the stuffing AND an appetizer.  We keep a container of small spoons right by the stove so we can taste as we go.  This is so important!  Taste as you go, and you will learn to cook by taste instead of having to follow a recipe.  

12 large or 24 small/medium cremini or baby bella mushrooms, stems pulled out and set aside for the filling
1lb ground pork
1 T butter

 

½ cup diced shallots
1 cup chopped celery (I like good size pieces of celery in mine but if it's not the most important part then you can dice them smaller)
3 cups chopped mixed mushrooms, we used cremini, button, shitake and oyster (don't forget the stems from the main mushrooms)

 

Lions main would be great if you are doing them vegetarian.
¼ cup marsala wine
Salt and pepper to taste
1 teaspoon chopped fresh thyme
1 teaspoon chopped fresh rosemary
1 teaspoon chopped fresh sage
1 tablespoon chopped fresh parsley
1 ½ cup panko, or cornbread crumbs
¾ cup chicken stock
2 eggs, lightly beaten
Wash and dry the main mushrooms and gently remove the stems.  They should easily pop out.  Set them aside for the chopped mushroom mix.  Lightly oil a medium sheet pan with olive oil and set the mushrooms, cup side up, on the pan.  Season with a sprinkle of salt and a few turns from the pepper grinder.
In a medium cast-iron skillet or non-stick pan cook the ground pork over medium heat until lightly browned, add a sprinkle of salt and a few turns from a fresh pepper grinder and stir.  With a slotted spoon, remove the cooked pork leaving the pork fat in the pan.  Add the butter and melt.  Add the shallots and celery and cook until translucent.  We always use a high heat rubber spatula (and of course ours are purple).  Once the shallots and celery are nicely cooked, add the mushrooms and gently brown them.  Turn off the heat and add the marsala to deglaze the pan.  Add the reserved pork and bring the heat back up to medium and continue to sauté the veggies and pork.  Add the fresh herbs and sauté a minute more until fragrant.  Add the panko breadcrumbs and stir to coat.  Add the chicken stock and turn off the heat and let sit until the liquid is fully absorbed into the mix.  Once the mixture has cooled slightly, add the beaten egg, and stir to thoroughly incorporate.


With a cookie scoop, or your hands fill each mushroom with a few tablespoons of the cooled mixture.  Bake at 425˚ for 12-15 minutes until the mushrooms are soft and nicely browned on top.  
Make these ahead of time and reheat them as needed.
Sub veg stock for the chicken stock and increase the mushrooms by 1 cup and the celery by ½ cup to make the vegetarian.  Or add ½ cup fine diced carrots instead of the extra celery.  
Sub cooked and cooled quinoa for the breadcrumbs.
If you don't have fresh herbs, you can use 1 teaspoon of any dried poultry mix.
CHEERS! Rebekah


Rebekah Abrams is the owner and executive chef at Rebekah's Kitchen in Park City, UT.  When she isn't preparing multi course meals for clients in their homes or delivering ready to heat and serve meals in sustainable glass containers with locally sourced ingredients, you can find her skiing the powder or carving turns on Deer Valley's famous corduroy.  www.chefrebekah.com