Aid for Restaurant Workers in Need: The Essential Napa Valley Cook Book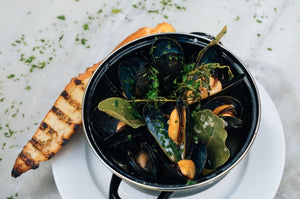 We teamed up with Jess Lander, a Napa Valley food and wine writer to raise funds for the production of a first-of-its-kind cookbook.
Inspired to help restaurant workers in Napa Valley - who have been without work due to restaurant closures for months at a time due to COVID-19 - Jess is bringing together top chefs in the region to create The Essential Napa Valley Cookbook. All proceeds from the cookbook will go help those in need - 75% directly to restaurant workers in need and 25% to the nonprofit, Feed Napa Now.
New West KnifeWorks pitched in by donating over $2,500 worth of our USA-made knives and culinary tools to raise over $3,000 for the production costs for the cookbook, which Jess anticipates will help raise tens of thousands of dollars for those in need.
Recipe image sneak preview.
About the Project
The Essential Napa Valley Cookbook is a first-of-its-kind cookbook featuring over 35 recipes from Napa Valley's most beloved and iconic restaurants and chefs. Created in partnership with Feed Napa Now, the majority of proceeds from The Essential Napa Valley Cookbook will go directly to restaurant workers of participating restaurants and a percentage will go to further supporting the efforts of Feed Napa Now. A coalition founded by a group of Napa restaurateurs, their mission is to feed our local community during the COVID-19 pandemic and other disasters.
Pre-sale is set to launch in April 2021, with hard copies shipping 6 weeks later. The Essential Napa Valley Cookbook will include roughly 40 recipes, including dishes from chefs Thomas Keller, Charlie Palmer, and Cindy Pawlcyn. A similar project, Serving New York, has resulted in a donation of more than $200,000 to restaurant worker relief. The goal of The Essential Napa Valley Cookbook is to raise over $150,000 for our community members in need. This will be achieved through a limited release of 5,000 copies, in addition to an eBook to raise additional funds once the initial print run sells out.
Participating St. Helena restaurants:
Press
Charter Oak
Farmstead
Goose & Gander
Pizzeria Tra Vigne
Cook St. Helena
Gott's
Model Bakery
As well as recipes from Napa culinary virtuosos like Thomas Keller, Cindy Pawlcyn, and Charlie Palmer.


What is Feed Napa Now?
Feed Napa Now is a coalition of Napa chefs, restaurateurs, caterers, farmers and community members who together with the Boys & Girls Clubs of Napa Valley and the support of donors, are cooking for and providing meals to the growing number of Napa County children and families who are going hungry due to the impact of disasters, most recently the COVID-19 pandemic.