New West Wine Program: Meet the Winemaker
May 06, 2020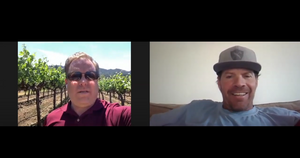 Over 10 years ago New West KnifeWorks Owner, Corey Milligan, met winemaker Brian Graham at the Jackson Hole Food & Wine Festival. Wine and good conversation were shared, along with some product swapping, and a lasting friendship was formed.
With our retail store location in Napa Valley (on Main Street in St. Helena), Corey has formed a deeper appreciation for outstanding quality in his wines, not just outstanding quantity.
Corey and Brian recently chatted about their origin story, and a new partnership we are proud to announce between New West KnifeWorks and Canard Vineyard.
With shutdowns from COVID-19, Napa's winemakers have lost many of their distribution channels for their products. Many of these wines are typically only available to restaurants and wine club memberships. In partnering with New West KnifeWorks, Canard Vineyard is making these wines specially available to purchase on our website.
Watch the video below for the conversation between these two friends about what makes Napa Valley so special, and the unique opportunity to purchase these boutique wines.