Maker Profile: Earl Davis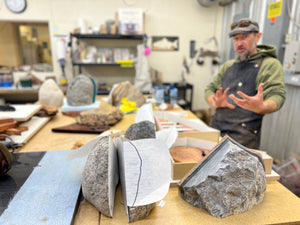 Earl works in a large space at the heart of the factory, a window on one wall looks into a hallway. Doorways on the other three walls give way to wood shops and knife making studios. The rest of the factory hums around him while music streams from his phone. Earl moves through the shop surveying his projects and tells me about his gig. This is his third winter working with NWKW making rock blocks and he admits the first time he saw one he was excited and not totally sure if he could replicate the creation. 


(Pictured above, Earl inspects a 2" pour of blue resin.)

The rock block making studio space is open with a table in the middle of the room surrounded by rolling racks that overflow with gorgeous chunks of wood and stone. Earl reports, "I've made more than 100 blocks." 

He explains - each creation starts with the rock, he identifies the base and the best angle to slice it in half. Then Earl selects the wood and calculates how many and which knives will fit. It doesn't always work this way, sometimes he finds a piece of wood that's so cool he'll go find a rock to work with. It takes at least a half a day to cut the rock, then another two days planning before the wood can be shaped and the resin can be poured. Some of the more intricate creations take two weeks. The resin mixing can be tedious, the pigments and other textural elements are hard to predict and seem to change and morph as they rest. 


(Pictured above, a work in progress)

Earl is known among his colleagues as a perfectionist, spending hours on details that may never be noticed by anyone but him. He works hard to identify elements in each unique stone and wood selection to make sure they are displayed beautifully. He leans in close to a grey piece of rock and asks me if I can detect the flecks of pink and green in the stone. I can see the colorful flecks and they are beautiful. 

(Pictured above "Crooked Island 6pc Set" one of Earls Creations.)

Earl says of his work with New West KnifeWorks - "it's my creative outlet."
Earl embodies the artist's spirit, he like all NWKW employees has the freedom to try new things and experiment. His colleagues describe him as a cool dude.